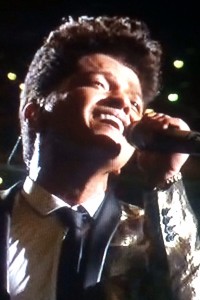 Unless you were a Seahawks fan, Super Bowl 48 wasn't much for football.
But if you didn't know how good Bruno Mars was, you found out on Sunday night.
After Peyton Manning's Denver Broncos were shutout by the Seattle defense in the first half, Mars came on the field with enough energy to match both teams.
With an intro by a diverse chorus of young singers in front of a U.S. flag, Mars appeared center stage banging the drums like he was announcing a new America—or at least its soundtrack.
In Mars, we have the perfect representative: half-Filipino on his mother side, Puerto Rican and Hungarian/Jewish on his father's side, born and raised in Honolulu, with soulful R&B pop roots that enable him to go from pop to hip-hop to James Brown.
As Brown might say, "Good God," he's got the moves.
Mars may just become the new "hardest working man in showbiz."
With his drumming, his singing, his dancing, his stage presence, Mars put to rest any doubters who wondered why New Jersey artists like Bon Jovi or Springsteen weren't asked to perform.
The NFL said Mars was always its first choice. Now we see why.
Still, even though Mars has been established since 2010 with multiple Grammy victories and nominations, doubters questioned his selection. His tour-de-force  half-time show was like his debut as world-class performer.
In the end, in the close-ups you could see the sweat drip from his brow. Then the wide shot revealed Mars, post-bow, humbled by the stadium's roar of approval.
Quite a night for a Filipino kid from Honolulu.
I first sensed his greatness two years ago on Saturday Night Live.
Even there, there was some doubt whether he could host the show.
In the opening monologue he sang, "Can I be like Timberlake?"
It was a reference to the one-time boy band sensation now international star.
Then he delivered the punchline. "Underneath this trendy suit," Mars sang," hides a scared Filipino…"
To dispel all doubts, Mars broke into a gospel-like refrain. "I'll be amazing," he sang. "I can do it." 
On Sunday he showed the world once again, that yes, this Filipino boy can.  
CHECK OUT THE NEW HOME FOR THE AMOK COLUMN: www.aaldef.org/blog
LIKE  and FOLLOW us on Facebook: http://www.facebook.com/emilguillermo.media
And FOLLOW  on  Twitter     http://www.twitter.com/emilamok