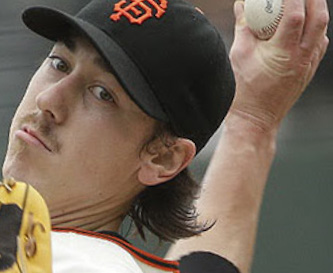 (Lincecum pictured here on a much better day).
He still made batters miss tonight. But the Giants' Tim Lincecum's  28 pitch 1st inning set the tone against the Rockies Wednesday night.
A walk and a hit put runners on base for Colorado batter Nolan Arenado, last night's defensive star.  '
Tonight he was the offensive star.
With two pitches, Lincecum fooled him badly and looked like he had him with two strikes in the count. But Arenado anticipated the next pitch, a slow curve outside, and golfed it into the left centerfield seats to make it 3-0, Rockies.
Usually you can weather that if you have a decent offense.
But when you have a team that can barely muster a run, giving up three in the first make the home team's bats even heavier.
Lincecum had some good ball movement in the first. But he isn't showing much velocity. His fastball only hit the gun at 88 mph, which doesn't make for enough of a speed variance to fool hitters consistently.
The Arenado sequence went 72, 80, 78.  Even with some movement, the pitches start looking the same.  Lincecum tried one more slop pitch away and Arenado got him.
Lincecum's line didn't look all that  bad.  He went 5 innings;  88 pitches; gave up 6 hits; 4 runs, 3 earned,1 walk (good control), and 4 strikeouts (he still fooled some of them).
He just didn't get run support.
But then, this is the team that scores in the post season with  sac bunts, double plays and normal outs.
It just seems more charming in the post-season. Early in the regular season, it just seems …less  charming.
Giants got back a run in the first with Aoki (HBP) and Pagan with an RBI single scratching out some offense.
They didn't get shut out.
The Rocks added a run in the second  to make it 4-1.
And you know Lincecum would have wanted that one pitch to Arenado back, as he watched the rest of the game from the dugout.
UPDATE: Matt Duffy added a homerun for the Giants in the bottom of the 8th.  And that made the score appropriate for Jackie Robinson Day.  In a game where everyone wore No.42, the score ended up appropriately, 4-2.