GOP candidates will now no longer be able to utter the phrase "elephant in the room."
Satirical sources say this is Obama  telling Christie, there are no seats big enough currently in Air Force One to accommodate a Christie presidential victory.
But as Christie satirically said, "We'll cross that bridge…"
Oops, another cliché his speechwriters will have to nix.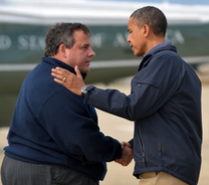 See my regular columns on the AALDEF.org website.