The Giants should have taken a cue from the tinikling dancers.
You just can't afford to make errors in the field when you're a tinikling dancer.
Same goes for a baseball team.
Bowls, gloves, you can't mess up–not on the field.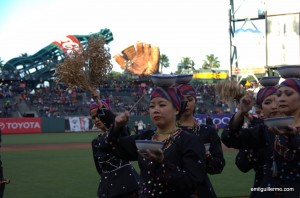 The Giants made three deadly errors, that pretty much made the difference in the night's 6-4 loss.
From the first play on a Parra groundball that led to the first run, to the last inning. The Giants made it exciting by tying the game in the 9th, 4-4. But in the 11th, a series of miscues gave the Diamondbacks the go-ahead runs. There was a misplayed ball by Torres in left that allowed a runner to second. Then a bad throw by Sandoval at third , dropped by Belt at first, followed by a wild pitch that scored a run.  For good measure, the Diamondback's Parra doubled and another run scored.
A tough night considering the Giants staged a rally as if on Filipino Time, i.e., late.
Two-runs in the eighth, and two-more on a home run by Belt tied the game and thrilled the chilled crowd. But it wasn't  enough to send fans home happy.
Those with theFilipino Night tickets got special scarves with the number of baseball's premier Filipino American player, Tim Lincecum, No. 55.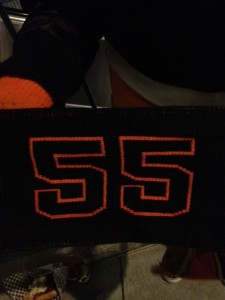 There may not be many Filipino American ball players in the "beeg leegs."  And that makes diversity nights like this one at the Giants' AT&T Park are important.  There was even a Filipino American ball dude–No. 6, Vince Gomez, retired music teacher.
Heritage nights bond the team and the game to the community, and makes a public event like a baseball game a special one. This is what sports does for us these days. It's the reason the Boston Marathon bombs were so jarring, and why it was important for baseball as a game to respond the way it has to that tragedy.
When you include the fans in the stands, baseball really is a reflection of the country, even to how we're somewhat stratified by where we sit and the ticket we can afford. But we're all watching the same game, and cheering for the same team.
Better yet, though seasonal, it happens everyday, just like life.
When you win, you celebrate. And when you lose, you reflect, and get back up.  No time to get down. There's another game today.
That's baseball.