UPDATE/GAME 7  8:23pm  10/29/14
Blanco made it tight on the 9th inning error, but Madison Bumgarner is World Series super. On the 68th pitch, he made history. Madison Bumgarner is the most Giant Giant.
That Gordon single/triple was worrisome, especially with the dangerous Perez up to bat. But the Royals couldn't solve Bumgarner and kept chasing the high pitches until that final foul pop to Panda ended the game.
Fitting that the last out be fielded by Panda, as it may be Sandoval's last game as a Giant.
What are we going to do with all the Panda hats?
But we'll save that answer for the front office. This was a real special team. It looked lost in June. They came back to just squeak into the post-season. They had to get by several key injuries. But the core they needed to win was there.
Once again,  they are the best team in baseball.
Except for that last hit by Gordon that  Lorenzo Cain might have turned into an inside the park homer, the defense was impeccable. (The Panik glove toss  4-6-3 double play in the third was amazing).
And the offense was the made-to-order variety. They did it in the second, when Sandoval led off hit by a pitch. Pence  and Belt both singled to load the bases with one out. Morse's sac fly drove in Sandoval.  And Crawford's fly got home Pence.  Two outs produced two runs.  Why not? Who needs home runs?
Kansas City tied it up in their half of the second in almost an identical way.
But the Giants came back in the fourth inning. Panda led off with a single of Royals starter Jeremy Guthrie. Then Pence singled to center, followed by a Belt sacrifice fly to advance the runners. That chased Guthrie out of the game and in came Kelvin Herrera in relief. But Morse greeted the fresh Herrera with an RBI single for the third, and ultimately, the winning run.
Jeremy Affeldt, who came in relief after Giants starter Tim Hudson left after two, managed the 3rd and 4th innings. And after that it was all Bumgarner.  I had just seen him on Sunday pitch 117 pitches in a complete game shutout. I thought he might go a few innings. Maybe the 5th and 6th, and then leave it to the bullpen. But after the 6th, he was in for the 7th, the 8th, and what the heck, why not the 9th.
In all, he pitched 5 innings, gave up 2 hits, no runs, struck out 4, walked none.in a virtuoso 68 pitch performance.
And that's how you win a third championship in five years, with a special and historic game 7.
UPDATE/ GAME 7, 10/29/14  9am
As the Giants try to be the "every other" year team, they are frustrating everyone  by being great "every other" day. Champs in Games 1, 4, 5.  Chumps in Games 2,3, 6.
The converse is true for the Royals. So really what we have here is one odd "Bi-Polar" World Series of Baseball, where the only thing that Bruce Bochy says that makes sense is "they're human."
Yes, and not machines. Not bots. Not baseball apps that perform on demand. Take your stats and shove it. You can't press go and get a champion 3 hours later.
That's why God gave us the 7th game. Even he was done in 7.
And this will be too.
I still think the Giants have a slight edge. Just because they've done elimination games and consistently responded. But the crowd is definitely a factor, and tens of thousands of blue-clad fans starved for a victory can motivate or crush you, depending on whether you wear blue.
Pshaw, you say. All that momentum stuff is bull. So let's hope the Giants got a good night sleep. And that Tim Hudson has a good 4-5  innings in him. And then MadBum enters in the 4th.
And that the Giants stick to plan and manufacture runs. Lead off man on, move him into scoring position. Then bunt, sacrifice, get that runner home.
Rinse, repeat. Do it once for the first 5 innings.
5-0 in the 4th or 5th. Bring on Bumgarner. Let him close it. Bring on Casilla.
Leave Strickland. Let Timmy warm-up to make fans go crazy back home.
That's your recipe. Parade on Halloween where everything's orange.
I dreamt it. After a 10-0 loss, anything is  possible.
Maybe we'll see the oldest man ever to start a series win it all for the road team.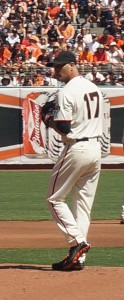 UPDATE/ WORLD SERIES GAME 6, 10/28/14  9pm
They cried "MVP" after Bumgarner's masterpiece on Sunday in San Francisco.
But MVP actually described the Giants demise in Kansas City on Tuesday.
Miscues. Ventura. Peavy, or just pitching, in general.
Miscues hurt in the field. Ventura quieted the Giants'  hitting. And the Giants' pitching just wasn't very effective.
This game was all, and I mean ALL KC,  10-0.
SF starter Jake Peavy was battling from the first inning. Not a good sign. With two outs,  he gave up a walk to Lorenzo Cain, and then Hosmer singled to left. Travis Ishikawa showed his inexperience in the outfield by slipping as he fielded the ball, then threw to the wrong base. Fortunately, the Royals didn't score that time, as Peavy got Butler to ground out to short.
But it was just a hint of what was to come.
In the Royals' 2nd,  Peavy faced six batters. Gordon singled to left. Perez then singled to right. Mike Moustakas followed with a double to score Gordon to give the Royals a 1-0 lead.
Peavy stuck out Omar Infante swinging, to build some confidence.
But here's where the miscues came in. Once again, it was a softly hit ball in the infield by the Royals' Alcides Escobar. First baseman Brandon Belt fielded it, but appeared to listen to Peavy who seemed to yell to throw home.
Belt did what he was supposed to do, check the runner at third. But Peavy's communication delayed Belt's next move, which should have been to flip the ball to Joe Panik covering 1st. But the batter Escobar was too fast. Belt tried to beat him to the bag. But by then everyone was safe, leaving the bases loaded with just 1 out.
Peavy had to get the next Royal batter, Nori Aoki. Peavy got two strikes on Aoki, but then gave up a single to left, driving in another Royal run.
Not that bad. But had Escobar and Aoki made outs, the Giants would have been out of the inning down just 2-0.
It was that miscue by Belt and Peavy.
"I thought that changed that inning," said Giants manager Bruce Bochy after the game. "(Peavy) gets an out  there, he has a better chance of getting out of the inning."
Instead, Bochy brought Yusmeiro Petit in to do what he does. Shutdown the other team.
But it didn't happen tonight.  Lorenzo Cain, on yet another soft hit by a Royal, singled to center. That scored two runs, and made it 4-0.
Petit was not sharp on this night and threw a WP, moving Cain to second. Eric Hosmer then  hit a grounder that hit off the hard dirt in front of the plate, it was like a "Kansas City Chop." The ball bounced over shortstop Brandon Crawford's head and found some shallow ground in left. It was a fluky kind of "nothing is going right, we should have stayed in bed" kind of play. Good for a double, and scored  Aoki and Cain.
Six? Yes, that made it six.
Petit never got settled and gave up another double to Butler (this one on a fly to center) scoring Hosmer.
That made it 7.  And the game really was done.
The Giants seemed to feign a comeback in the third.  The Royals' Yordano Ventura was on his game, throwing in the high 90s the first two innings. But he was a bit wild after the big inning, walking three straight Giants. But with Posey up and one out, the hopes of a rally died with a 6-3 double play.
The Giants let Machi, Strickland, and Vogelsong eat up the innings, saving the bullpen for the big day on Wednesday.
So there will be a Game 7. And this is what they mean when they talk about Game 6 being a do or die game for the team with a 3-2 lead.
You lose on the road and rarely do you get a chance to  rebound in Game 7.
The Giants know that feeling from the World Series with the Angels in 2002.
Maybe it's different this time.
Game six would've been were it not for miscues, Ventura, and Peavy.
UPDATE/WORLD SERIES GAME 5  10/27/14 9AM
If you ever played youth baseball, then you know the phenomenon. There's always one kid, much bigger, better and badder than all of us. For me in San Francisco's Dolores Park, it was when we played Jackson Playground's team and faced a pitcher whose last name was Dickson. He threw sidearm and fast and scared the hell out of all us 12 year-olds.  He pitched. He batted. He was a man among boys. He was flat out great.
Right now, Madison Bumgarner is that kid.
He's from another baseball world, playing with the rec league.
He's bumgarnered the Royals but good.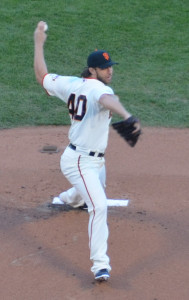 From where I sat, his confidence never wavered from first pitch to last.
And there's no league higher than Major League Baseball. On  it's largest stage he is showing  there is no post-season pitcher who comes close to his domination. A micro-era in World Series play. Better than Babe Ruth. Remember him? They named a candy bar after him.
Someone better name something after Bumgarner
Because after Game Five of the 2014 World Series, everyone wants one.
…
I knew this game would be different during that 2nd inning.
Look, this is a pop-less World Series. No one hits home runs.  Both teams play in parks where offense has to be manufactured on demand.
Lead off man gets on. You move him along. One or two productive outs later, you get a dinky hit. Touchdown!  (Oops, wrong Sunday game).
You get the idea. No one goes for the fences. You hit on the ground, you bunt.
You go for the blades of grass.
So in the 2nd when Pence singled, and Belt BUNTED. I didn't miss the signal.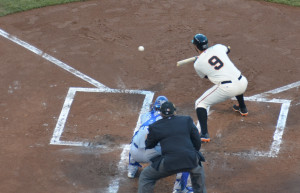 It was a BUNT event. That's what all that World Series bunting is for.
The Giants were going to play inning by inning. Scratch out runs. And let MadBum do the rest.
Belt's bunt, followed by a sac fly by Ishikawa sac fly, moved two runners into scoring postion.
And then Crawford came up with a groundball out for an RBI.
This is the Giants blue print. Get your three runs on demand with OUTS.
Let your pitching and defense be flawless Let your outs win for you.
It is the pop-less offense. Giants-style.
LIFE AND DEATH
The Giants dealt with it in the beginning when the kids of Robin Williams were part of the ceremonial first pitch. Zak, threw the ball, while Williams' half-Filipino kids, Zelda and Cody, watched.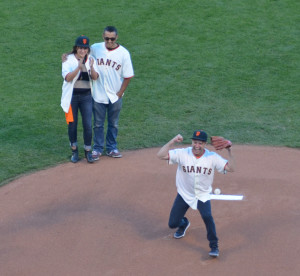 It was followed with previous clips of Williams on the scoreboard, when he led the stadium in cheers.
Later in the game, the fresh news of Oscar Taveras'  death was a definite reality check for everyone.
Some of the Cardinal rookie's best days were against the Giants. His major league debut, a home run in his second at bat vs. the Giants in St. Louis.  Taveras hit another home run just recently vs. the Giants in game 2 of the NLCS.
UPDATE/ 10/26/14
OK, who remembers ten days ago?
There he was the human spittoon and snot dispenser, with that strange left handed delivery that has stymied batters all post-season.
In another Game 5, the NLCS, he  was mowing down Cardinals (8 IP, 5h, 3R, 5K).
But he needed a little help from Travis Ishikawa who provide the walk off.
Here's Madbum dealing on that day.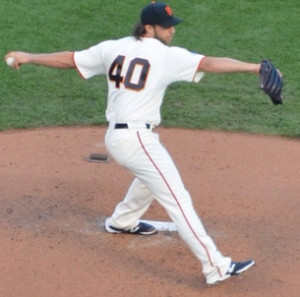 It's another Game 5. It's the World Series. It's tied at two games. It's also the final game in 2014 at AT&T.  Will he have the stuff it takes to win today?
With a rejuvenated Giants' offense, more Madbum Magic today, that would make quite a sendoff for the road warriors who can win it all in the heartland.
UPDATES TO COME…see the twitter feed on the right sidebar.
CHECK OUT THE NEW HOME FOR THE AMOK COLUMN: www.aaldef.org/blog
LIKE  and FOLLOW us on Facebook: http://www.facebook.com/emilguillermo.media
And FOLLOW  on  Twitter    http://www.twitter.com/emilamok
10/25/14  9pm pdt
If Kansas City was feeling prematurely Royal, the Giants dispelled all that with a convincing 11-4 pounding to even up the World Series at two games a piece.
The Giants, who had looked anemic and craved offense, finally woke up and pounded out 16 hits. Not in a month, but the same game. The hits weren't big blasts, just timely blows that helped them scratch and claw early and often.
This was a game about small ball dominance.
The Giants scored in the first on an infield hit from Hunter Pence, that drove in Gregor Blanco.
Ryan Vogelsong, who thank goodness was not Madison Bumgarner on short rest, was unlikely to hold that slim lead against the Royals.
And in fact, he didn't.
In the third, KC showed their own small ball chops, sent 10 men to the plate and scored four runs after two were out.
It was the middle of the order of Gordon, Cain and Hosmer who chipped away to tie on an infield chip. But it set the table for more,, as Infante delivered a two-run single, and Sal Perez added another RBI single to make it 4-1.
Jean Machi came in to relieve Vogelsong. But the Royals were having fun now. They even smiled for the cameras when pitcher Jason Vargas forgot the count on his 3-2 at bat and headed toward first.
It was a human mistake. Forgetting the count. But while the Royals chuckled, it was somewhat embarrassing for the Giants.
Vargas returned to the plate. Machi gained his composure. And struck him out.
That may have been the beginning of the spark the Giants needed.
Matt Duffy, pinch hitting for Machi, led off the bottom of the third with a single, and scored when Buster Posey singled. Pence singled as well. But with two runners on Pablo Sandoval struck out, and the Giants were still down 4-2.
Yusmeiro Petit, who was the night's winning pitcher, came out and retired the tough part of the Royals in the 4th and 5th, allowing one hit and striking out two.
Petit's middle inning stoppage seemed to rally the Giants, who themselves sent seven batters in the bottom of the fifth. Panik led off with a double and scored on a Pence single off KC pitcher Jason Frasor, who had replaced Vargas.
But then Ned Yost went with lefty Danny Duffy in order to exploit Sandoval's right-handed batting weakness.
Sandoval promptly singled to left. Belt followed with a walk. And the bases were loaded for Juan Perez who tied the game with a sacrifice fly to center field scoring Pence.
4-4. New game.
And we weren't even to the all important 6th inning.
Petit stayed in and retired the Royals in the top half of the frame with the help of a 3-6-3 double play.
And then the Giants in their half of the inning began to tee off against young Brandon Finnegan.
The lefty was like a Royals gift. The Giants scored three times in the 6th. And again the "Pablo can't hit lefties" theory was tested, and this time Sandoval really delivered with a two run single giving the Giants a 7-4 lead.
And it wasn't over. In the 7th, the Giants came back with a lead off infield hit from Crawford, a walk to Morse and then the Royals finally figured they should lift Finnegan.
In came lefty Tim Collins, who gave up a single to Blanco and then on came Joe Panik with a double to the gap in left center scoring Blanco and Morse.
Pence added another double and Panik scored.
Offense. It's infectious.
The four runs seemed to be enough of a pad to bring out Hunter Strickland for a little encouragement and redemption in the 9th. He struck out Escobar, gave up a single to Gordon. But Pence made a good catch on a Cain fly, and a Hosmer groundout to Strickland ended Game 4.
What do you know. A small ball laugher.
The Giants now start Madison Bumgarner in the last game of the season at AT&T Park for Sunday's Game 5.
It's not an automatic win, but Madbum's been dominant and is in KC's head. If the Giants do win, all they need is a split on the return to KC.
That could be tough in the Royals home park with championship starved fans egging them on.
But the Giants have shown what they can do once when their backs are to the wall.
On this night they bounced back from a 4-1 deficit to not just win the game but to once again establish dominance and steal the momentum.
That's a big boost going into another small ball chess match with the Royals.