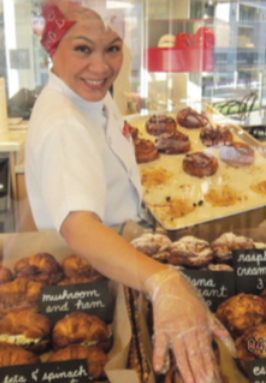 Analiza Moitinho de Almeida, an owner with her husband Goncalo, of the L'Amande  French Bakery in Beverly Hills, declined to comment, but did speak to me by phone Thursday when I called her this week.
See what she had to say about the lawsuit filed by 11 of her workers who allege worker abuse/fraud/trafficking  in a suit worth more than $1 million.  
See original NBCnews.com story here.
UPDATES:  More to come on this story. Keep checking back on amok.com.
CHECK OUT THE NEW HOME FOR THE AMOK COLUMN: www.aaldef.org/blog
LIKE  and FOLLOW us on Facebook: http://www.facebook.com/emilguillermo.media
And FOLLOW my latest tweets  on  Twitter    http://www.twitter.com/emilamok