In your wildest dreams, maybe Tim Lincecum would come up with a 2nd no-hitter, a back-to-back that would make history. No one has done it in 75 years, not since Johnny Vander Meer did it for the Cincinnati Reds.
It certainly didn't happen tonight for Lincecum and the Giants.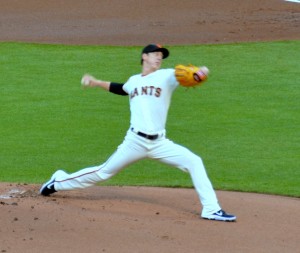 Baseball records are made to be broken, but not on this night when  Lincecum simply just didn't have it from the first pitch.
But Bronson Arroyo did.
The Reds starter pitched  a 7-hit complete game shutout, powered by a 11-run, 17-hit attack and buttressed by some good defense, including a circus catch by the substitute center fielder Derrick Robinson in the 9th. The Giants' Jeff Francoeur had hit a long fly to center that Robinson caught over the wall with his glove. As his gloved hand came back from over the wall, the ball popped loose, but Robinson ultimately managed to keep it from hitting the ground to record the final out.
A fitting end for a strange bombast of a game won by the Reds, 11-0.
That's right 11-0. The sixth time this year, the Giants have lost by 10 or more, but never by a shutout like this. (They've been shutout 7 times this season).
Lincecum was pulled after 3 and 2/3rds  innings, after giving up 9 hits and 8 runs, all earned, including 3 home runs.
Normally this season, you could see flashes of his brilliance amid one bad inning. In this game, every inning he pitched there was trouble.
The no-hitter had been a nice diversion in a season where Lincecum has lost ten of his last 12 decisions. Pitching on nine days rest, Lincecum said after the game, he felt fine going into this one.
It just seems  like we've returned to the troubled Lincecum, as the afterglow of the no-no has now officially ended. 
See  more of the  Linceblog at www.asamnews.com