As we enter into the last quarter of the season, the Giants seem less like defending World Champs and more like lame ducks.
Sort of like Barrack Obama, whom they will meet on Monday in the White House.
Like the Giants, Obama is slipping badly in the polls, but he still has a little more time in his last term, as he tries to cement his legacy with the nascent Affordable Care Act, better middle class economic initiatives, and the push for immigration reform.
The Giants? They've got less than 60  games.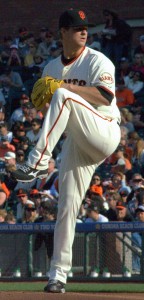 Let's presume, to keep the math simple, the Giants win with Cain pitching tonight (unfortunately, this year that's a leap of faith, as Cain hasn't been quite the horse we know. Note: See update. They didn't win, but it wasn't Cain's fault).
Say they beat the Cubs, whose owners have already sold out the team. That would make the Giants 47-55, with 60 games left (162 game season).
If the present sub-.500 Giants team manages to play up to .500 baseball that leaves us at 77-85.
Hello, 49ers.
If the Giants manage to finish strong, say .700 baseball (a real leap), then we've got a shot at a wild card with 89 wins.
.700 baseball? Not a total fantasy. But the way the Giants are these days, only a slightly plausible reality.
If the team gets real healthy, stays motivated, and maybe the entire NL West collapses (say the Dodgers get distracted/hurt or somehow Puig goes back to Cuba because he misses Communism, or something), then the Giants have a real shot.
But it will be up to the team to heal, get psyched and stay with it to the end.
As they say at the track, "pace makes the race."  In baseball, a pennant race has a lot of the same characteristics, with parts of the season where teams can stink , and then cycle high and end up as champs. (Just look at how the Giants Dodgers have reversed fates).
The Giants started out stronger than we thought. But that was negated by a mid-season collapse that started with that horrible road trip on May 14 to Toronto. The funk lasted until the All-Star break.
If they can finish strong, they can pull one of those comebacks that's not so uncommon in sports, and that makes a season special.
The Giants can still do that this last quarter. They don't even need to make a big trade. Another small Scutaro-type trade would be nice. (Today, they got another Guillermo (Moscoso), making them a two Guillermo team).
But really, they don't have to do a thing. Just heal, and play errorless fundamental baseball.
They're defending champs. With a track record. If they can get healthy and catch some breaks, they have the talent to win on heart and guts alone.
They've got 60 games to prove it can happen.
(Note: I was optimistic when I first wrote that. Now with 58 games left, Anthony Weiner may have a better chance at staying in his race than the Giants have in staying alive in the NL West).
UPDATED 7/26   10:38PM  GIANTS' PLAYING IDENTITY BALL
This is another one of what I call "identity" games. The games that put a stamp on what kind of team you really are.
There are good ones, like the one where Pagan hit his inside-the-park-home run. The kind of game you have to keep in the back of your head as a reminder  when things go bad.
Like now.
Or you've frayed the film in your head. And you just need to play another game, just like that one again. 
So the Giants really needed game 1 in this series against the Cubs, especially after the Reds visit, to show everyone, especially themselves, that they still have it as defending champs.
When you go into the 9th against the Cubs with your closer and a 2-1 lead, you expect to walk away a winner.
But the Giants found a way to lose.
First, Romo gives up a hit and a walk, then a force out puts runners on first and third.
But it was Brandon Belt's boot of an Anthony Rizzo grounder that was the big blow. Self-inflicted. 
The ball was hit right at Belt and he booted it. It went  through his legs.
Two runs score, and the Giants go from 1 strike away from a 2-1 victory, to down 3-2 in the 9th.
Shades of the Buckner Red Sox error in game 6 of the World Series Oct. 25, 1986.
But that was a World Series. This was just game 102 of the regular season.
Still, it was symbolic. 
A win would have been a tremendous mental lift for a team whose identity is in question. What kind of defending champions are they? Do they have it in them to be great? Where all the past three seasons just coincidence? Can they win with these guys?
Matt Cain turned a shaky start into a good performance, good enough for a win. But once again, the hitters couldn't muster more than 4 hits going into the last inning. And then, after the error, couldn't score to win, let alone extend the game.
He's been through low-run support before.  But this was all that, plus a defensive failure.
It's tough because Belt is a great fielder, normally.
But maybe we must accept that this will not be the kind of normal year we've come to expect at AT&T.
With sixty-games to go, it seems a lot to wish for even .500 baseball at this point.
But baseball, with or without PEDs, has its own way to justice and redemption. Times like these set up memorable comebacks like last year's post-season.
Do these Giants still have it in them?
UPDATED: Saturday, 7-27-13 9:11 PM
Yet another heartbreaking  loss, this one 1-0 came after two bases loaded opportunities, one with no outs, the other with one outs.
And one with the big bats, Posey, Panda, Pence coming up.
But instead of a bushel of runs, the Giants came up empty.
To add to the frustration, the villain tonight was a former local hero, Nate Schierholtz  whose HR off a 3-2 Sergio Romo pitch was the games only run.
Win or lose, baseball is good entertainment. But you don't want every night to be "Death of a Salesman."
Manager Bruce Bochy lost to the long ball tonight and admitted his team isn't a power hitting team and can't win that way.
But after this kind of loss, the challenge is to not get mired in a mental funk.
"You try to keep them going. stay positive," said Bochy after the game to the media. "We're being tested. Why? I don't know, but we're being tested. And hopefully when you get tested you get stronger. That's why these two games are disappointing because the pitching's been there. We did meet today, we talked. (The team) is coming out with a lot of energy, but right now we've got some guys who aren't swinging the bats that well to be honest. We're getting shut down. There's a lot of baseball left. And there's a lot of pride involved. And the only  thing we can do is come out and just give it our all tomorrow."
A question came about fielding.
"If you lose games and you beat yourselves, that bothers me. That's not who we are. It's a little bit of who we have become. We've made too many errors. That shouldn't happen. It's not acceptable."
Bochy said the team was going to pass on batting practice before Sunday's game and do more infield practice. But he said hitting is still an issue.
"It's going to take someone to come through, and that seems to loosen some guys up," said Bochy. "But right now, we're in a tough rut, and we know it."
UPDATED: 7/28/13 SEASON SWEPT AWAY? LINCECUM TALKS ABOUT TOUGH LOSS AFTER STRIKING OUT 10 CUBS, BUT GIVING UP 2 CUB HOMERS
Tim Lincecum seemingly did it all.
He hit his spots. He said the ball felt good coming off his hand. He struck out ten Cubs.  He even hit the ball well as a batter, with two hits of his own.
Lincecum just didn't win.
Or maybe he couldn't win.
Not in the state the Giants seem to be mired in these days.
What else is it that we're talking about? The team's in a "state," not like California, more like Idaho, a bad baseball state (no MLB?). Or, so  as not to offend Idahoans, the team's just in a bad baseball way, one  that stuns even  a veteran  like manager Bruce Bochy .
"I'm very proud of Timmy in how he pitched and played today, it's a shame we couldn't give him a win," said Bochy after the game.  "In all my years, I haven't seen a team go through such a hard time getting runs like we're having right now. It's a shame. We've had great pitching."
He could have said the same for every Giants starter (Cain and Bumgarner) this Cubs series.
Sunday was no different. Once again, the Giants failed in typical fashion of late.
In another bases loaded situation with no out, the team couldn't score more than one run.  You could hear the heartbreak in the stands when Buster Posey hit a grounder to Cub third baseman Wellington Castillo who stepped on third and threw home for a double play in the 5th inning.
But the sighs turned into a big roar when Giant's third-baseman Pablo Sandoval came up next and promptly doubled to left to get one run home.
The Sandoval RBI got back the run Lincecum gave up to opposing pitcher Travis Wood,  who hit a solo shot to left in the top of the 5th.
But then in the 7th, Lincecum, well over 100 pitches  but stil looking like he could finish the inning (later he said he wasn't tired),  gave up another solo homer, this time with two-out to Castillo on a fastball down the middle.
After the game, Lincecum said even though Wood's homer was better hit, Castillo's was tougher because it broke the tie the Giants had struggled mightily to get.
It also put the Cubs ahead, for what ultimately was good enough to win.
Lincecum deserved a much better fate as he pitched 7 innings, gave up just 4 hits, two runs (the two homers), walked just two and struck out 10.
He was getting the Cubs to swing and miss with his off-speed pitches. Unfortunately, the Giants offense was doing its share of swinging and missing.
Brandon Belt had another horrible day in this Cub series, striking out four times in the game.
But the Cubs sure didn't miss when Lincecum made the two mistakes.
 Lincecum was asked about the bad way the team was in.
"We've been there before–we always talk about believing that we can get out of it," said Lincecum in the clubhouse.  "Just takes a couple of things going right to spring board us into something positive. Right now, we're kind of avoiding those. If we can just hit something right, catch strides somewhere, maybe win a few games in a row, maybe do better in a series, that will give us more confidence."
Lincecum was asked about the White House visit tomorrow and said no one was really talking about that.
Later when I talked to him without the cameras, Lincecum told me he'd met the president before. When I asked him if going to the White House as defending champs might create a motivating spark, he indicated that the motivation to act and play like champions should be coming from something more than a trip to the White House.
Lincecum was still fairly tight lipped, as the whole club house had somewhat of a  funereal atmosphere. People weren't walking through the clubhouse. They were reverently "eggshelling" like someone, something had died.
I got Lincecum to open up a bit for just a second when I talked about non-baseball things. (He's mentioned in the new book, "Little Manila is in the Heart.")
But you could tell when it came to baseball, the stone-faced quiet was really indicative of an intensely prideful, yet disappointed competitor, not willing to give up quite yet.
From where he was at the start of the season, Lincecum has worked hard to not just recapture some of his championship form, but pitch his first career no-hitter.
He was plenty good to win on Sunday, if only the rest of his team weren't caught in a strange crippling  funk.