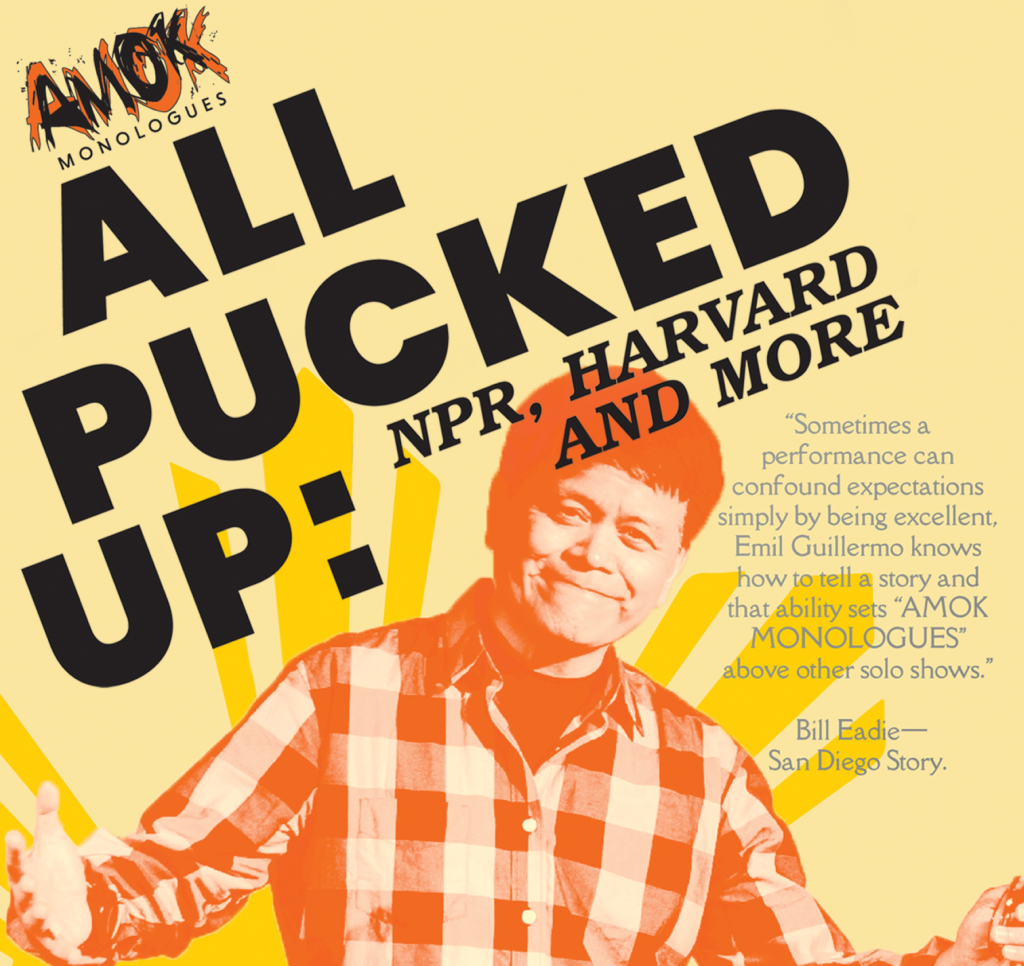 Some proceeds will benefit Manilatown Heritage Foundation, and Dawn Mabalon's Memorial fund.
For you last minute types… tickets will be at the door at Manilatown 868 Kearny at Jackson St. in San Francisco.
Or you can ….
Here's what critics say about Emil Guillermo's  "Amok Monologues: All Pucked UP":
"Stand-up, monologue, rant?….Enjoy trying to keep pace with Guillermo's brilliant mind… Funny, poignant."— Orlando Weekly.
"Keeps audience engaged." — Orlando Sentinel
"Charismatic…Guillermo's life is one worth exploring." — DC Metro Theater Arts
"Excellent…Emil Guillermo knows how to tell a story and that ability sets "Amok Monologues above other solo shows."  — San Diego Story
Aug. 17,  7:30pm,  Manilatown/I-Hotel,  868 Kearny St. in San Francisco.
Tickets $10, with part of the proceeds to benefit the Manilatown Heritage Foundation.
DAWN MABALON MEMORIES
I've spent most of this week writing about the late Dr. Dawn Mabalon.
If you've seen my stories on http:/www.aaldef.org/blog
or on Inquirer.net, you know I had great love and admiration for Dawn and her work.
Aug. 17, Friday would have been her birthday.   So I will share some memories after the "Amok" show when we do a talkback. It's a little something extra.
This show is a benefit for Manilatown.  But I will make sure some proceeds from the show are given to Dawn's fund.