A disappointing loss for American Filipino Wesley So at the hands of Fabiano Caruana of Italy.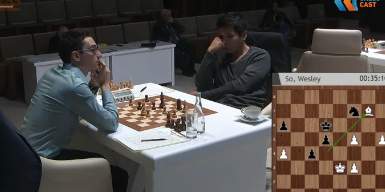 So is seen here on the right.
Playing black, So could not find an answer in this relatively quick match that ended when Caruana's bishop over knight advantage prevailed.
The round 7 loss of a full point put So further behind  World No. 1 Magnus Carlsen, who won his 7th round against Vladimir Kramnik.
The two are scheduled to meet in the 8th round.
But So enters the match with 4 points and in third place.   Carlsen is a top the leaderboard at 5.5 points. India's Viswanathan Anand, who beat So in their head-to-head matchup, is in second with 4.5 points.
CHECK OUT THE NEW HOME FOR THE AMOK COLUMN: www.aaldef.org/blog
LIKE  and FOLLOW us on Facebook: http://www.facebook.com/emilguillermo.media
And FOLLOW my latest tweets  on  Twitter    http://www.twitter.com/emilamok