Saturday was about connecting greatness.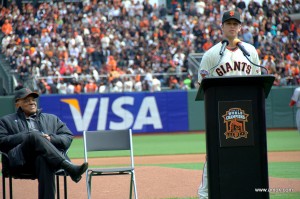 We didn't exactly have that for the game though.
With the Giants, winning is always about timing. And playing  perfect baseball, for now. Later, when they're sharp, they can be more human. But this early in the season, when you're not so sharp, you've got to get a little luckier.
On Saturday's game, the hits came at the wrong time, the defense failed when it needed to be perfect, and the starting pitching–which had been perfect with no earned runs through four games and 26 innings—finally showed its human side.
Ryan Vogelsong talked about not throwing enough good pitches at the right time after the 6-3 loss to the Cardinals. 
It's tough. With a few breaks in that rough first inning that featured a passed ball and a wild pitch, a timely strike on a 3-2 count to former Giant Carlos Beltran would have gotten Vogelsong out of a jam unscathed.
The Giants got back the run with a Pence home run, and Vogelsong settled down. But  in the fifth, a hit, a walk, a dropped ball at first, and again Beltran stepped in to hurt the Giants with a two-run single.  
Early in a 162-game season, it's a good thing they play another  150 or so. 
You can't have another celebration.
Oh, wait.
You can.
And today it's the rings. Not Wagner's Ring, but three days of celebrations do make the Giants opening week comparable to a Wagnerian Cycle.  (Baseball has a cycle too, but I don't think it includes a few bars from "Ride of the Valkyries.")
More on the rings in a later post.
The Giants are great nostalgists.
And when another layer of achievement is recorded, they gladly bring in the past to welcome the new glory.
It makes the Giants one of the more humanistic baseball organizations in MLB. Sure, in baseball, the numbers tend to dehumanize things, from stats to salary figures. But in the end, it's the human connections that make the difference.
The Giants are good at connecting greatness.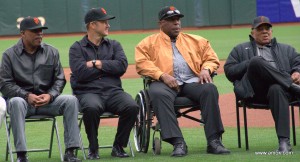 So for me, seeing MVPs like Kevin Mitchell (he of the one-hand-bare-handed grab see it on YouTube), and Jeff Kent (late of "Survivor"), next to the legends, McCovey and Mays…that was a sight. (Incidentally, no, Bonds sighting, and he won three of those MVPs).
Posey stayed off the field until the appropriate time.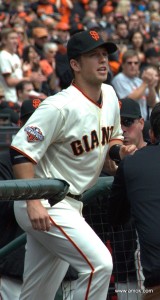 A baseball star's relationship to fans isn't bonded in words. When the player takes great actions, the cheers are what it's about.  And as Buster emerged from the dugout, they showed the love.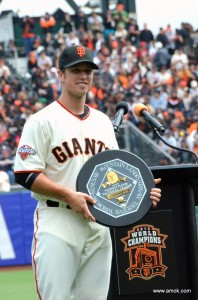 Posey held his award, and then as Mays and others looked on, he gave an appropriately short, gracious speech, thanking his family.
And his teammates.
There in the dugout were three that have been the other end of his battery. In between Cain and Zito, there was Lincecum looking on.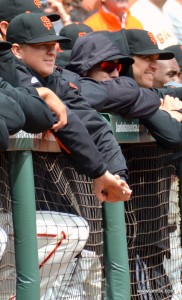 Posey was great last year, but with a grueling season the talk has been if he'll get enough rest to do it again this year.  And that always leads to speculation about whether Posey will catch Lincecum, or take that day off. This coming week, Lincecum is scheduled to start Tuesday night, and then comeback for a Wednesday.  Bochy told CSN BayArea's Andrew Baggerly that Posey will likely rest Tuesday.
So will the schedule dictate Posey rest when Lincecum pitches?  
Maybe, but from this observers eye, it seems to be a coincidence—at this point.
I do think Posey has to be out there catching, especially Lincecum.  If I were Tim, I'd want the best. And Posey is right now.