In an revealing interview with MLB.com, Tim Lincecum says a whole lot more than in his terse after the game clubhouse sessions.
Mostly he talks about being in a good place, how he's learned how to create a plan from talking to teammate Chad Gaudin, and learned how to live without his blazing fastball.
In some ways, he's so positive in the interview he sounds like he's on some 12-step plan. Good for the Giants or maybe some other team.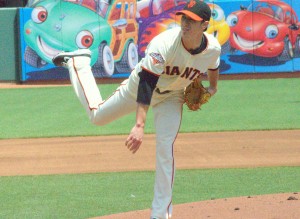 That's the speculation now as Lincecum returns to PETCO Park today for the first time since he threw the no-hitter that is now proving to be the highlight of the 2013 season for the whole team.
Here's an excerpt:
Lincecum: Oh, things are going well. I want to see things get better and I want to get better myself. I'm just going to worry about me in the offseason and just go on to help out a team that needs it. Right now, I'm just trying to make my tools better.
(EG: Was that a major league hint? That he's ready to say goodbye, if that happens? Gaudin, his "mentor" is a journeyman who has been around the block, maybe that's part of the "mental" aspect of the game he's passed on–changing uniforms, towns, teams but staying focused on one's native athletic skill).
MLB.com: What's the difference for you right now on the mound?
Lincecum: I think it's taking every start individually and at a larger level, not making any one game or any one month too big or overwhelming. It can be at times and I've gotten ahead of myself, worrying about the future, wondering whether the stuff I have on the mound I'm going to be able to carry forward with me. That kind of negative thinking just leads nowhere. You get negative feelings and negative results out of it. I've just tried to steer my mindset to a different kind of thinking by feeding off the positives, even if they're just little ones — liking myself at the end of the day, giving myself the benefit of the doubt even if the day doesn't go great.
MLB.com: How have you been able to accomplish that?
Lincecum: I've had the pleasure of having Chad Gaudin on the team, who steered me in the right direction, as far as studying hitters and exploiting them the way I would like to, at least. I've never had anyone sit me down and do that, nor have I asked. To see the game from that perspective, that's the way I've gone about it for the last 12 starts or so. Things have gotten increasingly better for me. It has me going out there with a plan, knowing that execution is the key. When anything goes wrong outside of that, I can always go back to my plan.
MLB.com: So you're saying a lot of your problems the last two seasons have been mental?
Lincecum: Yeah, a lot of it is completely mental, just grasping the fact that I'm not going to throw 95-96 [mph] by guys anymore. I probably have to spot my fastball a lot more. That goes back to trusting it, trusting the stuff you have that day, regardless how fast it is and regardless of the fact that you're probably not going to throw that hard again. You just have to trust it and know that it's good stuff.
MLB.com: So why, at your age, the decrease in velocity of your fastball? Have you ever figured that out?
Lincecum: No, I think it goes back to getting into a good rhythm and timing with your body and having as many games when you have good results, but you might not be feeling at your best. That obviously goes back to being a good pitcher, but I've always fallen back on how I felt and what my rhythm was like on that day. Lately that velocity hasn't been there, so I've had another crutch to lean on and that has been my game plan and the execution of that.
MLB.com: So you can fall back on the plan.
Lincecum: It's just knowing that I can execute a pitch and it doesn't have to be nasty anymore. That alleviates any kind of stress on any given pitch. If I do my pre-game studying, I know that a guy is or isn't going to swing at a certain pitch or in a certain situation. It's not 100 percent accurate, but it gives you a gauge that you can trust.
MLB.com: So how long has this taken to evolve?
Lincecum: The mental side started last year and the preparation part of it started this year. As far as preparing is concerned, I just wanted to be on the same page with my catcher, going with what I wanted that day whether it means shaking to a fastball away when he calls a curveball down, or any sort of scenario like that. I'm going with what I know I want so when he finally puts a sign down, I know, click, I've got that one. There's not a whole lot of running over signs or confusion about, "What do you want to do here?" We already know what we want to do and we have an idea.
The interview was conducted by an MLB.Com national writer, and was fairly long compared to the Lincelength comments one usually gets after the games. But it is a digest of things he's said throughout the season after both good and bad games.
Lincecum says he hasn't decided what to do, nor has there been any discussion with the Giants so far.
But he sounds ready for anything. Positive. Upbeat. Prepared.
His closing comments are telling:
MLB.com: How do you sum up this part of your career with the Giants?
Lincecum: I'm happy because I'm healthy and that's the biggest thing anybody can say, as far as their career goes. Being able to last is the biggest thing and staying in the game is the hardest. I enjoy being able to work, come in and be part of a team like this. It's been fun. I've faltered the last few years here. I think I have a lot of good years in me, as long as I turn it around and start believing in myself again like I should. I'm not going to try throwing 96 anymore. I'm going to try and sit on the edges, not necessarily call myself a nit-picker, but exploit guy's weaknesses and have them swing at pitches that I want them to. I want to keep getting better.
Is it over at AT&T? Let's hope not. He sounds like a better Lincecum. Besides, how will the Giants ever sell out TWO Filipino American Heritage Nights….