Tag Archives: Willie Mays
Saturday was about connecting greatness.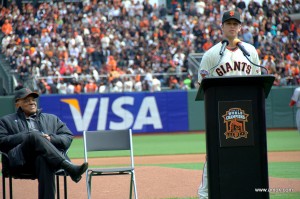 We didn't exactly have that for the game though.
With the Giants, winning is always about timing. And playing  perfect baseball, for now. Later, when they're sharp, they can be more human. But this early in the season, when you're not so sharp, you've got to get a little luckier.
On Saturday's game, the hits came at the wrong time, the defense failed when it needed to be perfect, and the starting pitching–which had been perfect with no earned runs through four games and 26 innings—finally showed its human side.
Ryan Vogelsong talked about not throwing enough good pitches at the right time after the 6-3 loss to the Cardinals. 
It's tough. With a few breaks in that rough first inning that featured a passed ball and a wild pitch, a timely strike on a 3-2 count to former Giant Carlos Beltran would have gotten Vogelsong out of a jam unscathed.
The Giants got back the run with a Pence home run, and Vogelsong settled down. But  in the fifth, a hit, a walk, a dropped ball at first, and again Beltran stepped in to hurt the Giants with a two-run single.  
Early in a 162-game season, it's a good thing they play another  150 or so. 
You can't have another celebration.
Oh, wait.
You can.
And today it's the rings. Not Wagner's Ring, but three days of celebrations do make the Giants opening week comparable to a Wagnerian Cycle.  (Baseball has a cycle too, but I don't think it includes a few bars from "Ride of the Valkyries.")
More on the rings in a later post.
The Giants are great nostalgists.
And when another layer of achievement is recorded, they gladly bring in the past to welcome the new glory.
It makes the Giants one of the more humanistic baseball organizations in MLB. Sure, in baseball, the numbers tend to dehumanize things, from stats to salary figures. But in the end, it's the human connections that make the difference.
The Giants are good at connecting greatness.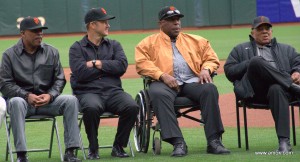 So for me, seeing MVPs like Kevin Mitchell (he of the one-hand-bare-handed grab see it on YouTube), and Jeff Kent (late of "Survivor"), next to the legends, McCovey and Mays…that was a sight. (Incidentally, no, Bonds sighting, and he won three of those MVPs).
Posey stayed off the field until the appropriate time.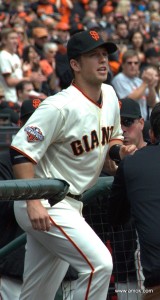 A baseball star's relationship to fans isn't bonded in words. When the player takes great actions, the cheers are what it's about.  And as Buster emerged from the dugout, they showed the love.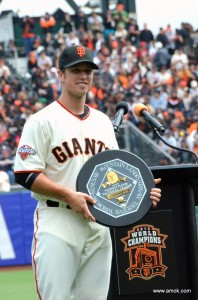 Posey held his award, and then as Mays and others looked on, he gave an appropriately short, gracious speech, thanking his family.
And his teammates.
There in the dugout were three that have been the other end of his battery. In between Cain and Zito, there was Lincecum looking on.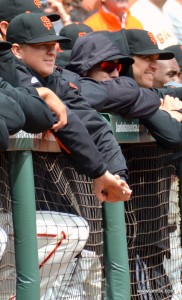 Posey was great last year, but with a grueling season the talk has been if he'll get enough rest to do it again this year.  And that always leads to speculation about whether Posey will catch Lincecum, or take that day off. This coming week, Lincecum is scheduled to start Tuesday night, and then comeback for a Wednesday.  Bochy told CSN BayArea's Andrew Baggerly that Posey will likely rest Tuesday.
So will the schedule dictate Posey rest when Lincecum pitches?  
Maybe, but from this observers eye, it seems to be a coincidence—at this point.
I do think Posey has to be out there catching, especially Lincecum.  If I were Tim, I'd want the best. And Posey is right now.
As a young boy, my earliest and lasting memories as a SF Giants fan were the resounding cheers for the heroes of '62:  Cepada, McCovey, and Mays—but especially Mays.  
He didn't have to do anything but come to the plate and have his name announced and Candlestick Park would quake.  
I've never really experienced anything live at any baseball game that could ever come close to the roar Mays could inspire.
Maybe I just haven't been to the right games in person.
 But yesterday I was. Game 1 NLDS, Braves and Giants, Tim Lincecum's first post-season start.
That's when I heard it again: AT&T Park reached and surpassed the mythic roar of my Candlestick.
Electric crowd?  It was practically nuclear.  When the focus is all on Lincecum, the wunderkind pitcher, it's not just a sporadic burst of cheers every nine batters for a star like Mays.  It's pitch by pitch throughout the entire game.  And just as in the days of old, before the baseball gods created the closer, Lincecum pitched the entire game (119 pitches).
Lincecum's dominance really was quite deceptive. In retrospect, there's no question that to the Braves, Lincecum was untouchable. But when you're at the game, the electricity is like an unbroken circuit. You're living and dying with every pitch, and totally in the moment. Dominance isn't a reality until the last out is recorded.  And then you look back and realize the Freak has 14 strikeouts, and by golly, the Giants one run has held up.  
The 14 K's were the most in franchise history since the '62 Giants, when it was ace Jack Sanford who rung up 10 Yankees.
I was happy to hear the stat, mostly because it brought up the name of an oft forgotten Giant.
Sanford who passed away in 2000 at age 70, was another favorite of mine.  He won 16 consecutive games in 1962 to propel the Giants to the pennant that year.  Normally, Juan Marichal's name comes up when people remember the arms of '62.  But to me Sanford was the guy that year, his only really stellar year.
As the Giants surged to win the NL West on the last day of the season, there was lots of talk about 62. But few, if any, ever mentioned Sanford, until Lincecum took the mound tonight.
This was just  Lincecum's first outing, a harbinger of more greatness to come, as if two Cy Young awards in his first two full years didn't already indicate that.   Lincecum had a rough August, but his return to form in September continues into  October.
He's got his Filipino side in him working again.
Next for the Giants comes Matt Cain, then Jonathan Sanchez. And Madison Bumgarner.   And Lincecum again.  And when they tire, Brian Wilson and the bearded and unbearded pen lay in waiting.
With those arms maybe all you do  need is a couple of hits, a walk, and a run scored on a double play.  (The Giants have 159 or so of those this year).
I'm almost as old as the number on Timmy's back. But I haven't felt this way about baseball since I was a kid.  
On Thursday, I saw it, and heard it. I'm going back for more.