A NEW REVIEW FOR MY CAPITAL FRINGE SHOW!
"A refreshing experience in more ways than one. At the end of the hour when Emil thanks the audience for seeing him as his authentic, non-invisible self–well, that's what makes theatre so worthwhile, isn't it?" –DCTheatreScene July 22, 2019
555 Water St. SW DC, Saint Augustine's Episcopal Church …
It's COOL INSIDE!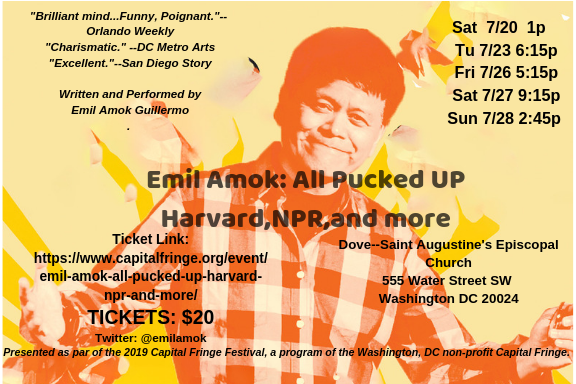 CLICK HERE to secure site FOR TICKETS TO ALL SHOWS NOW! 
Let this be your virtual program for the show!
MORE EMIL?
click here to READ EMIL AMOK columns on the AALDEF site!
click here to LISTEN TO EMIL on THE PETA PODCAST
Read a little more about me here.
Twitter @emilamok