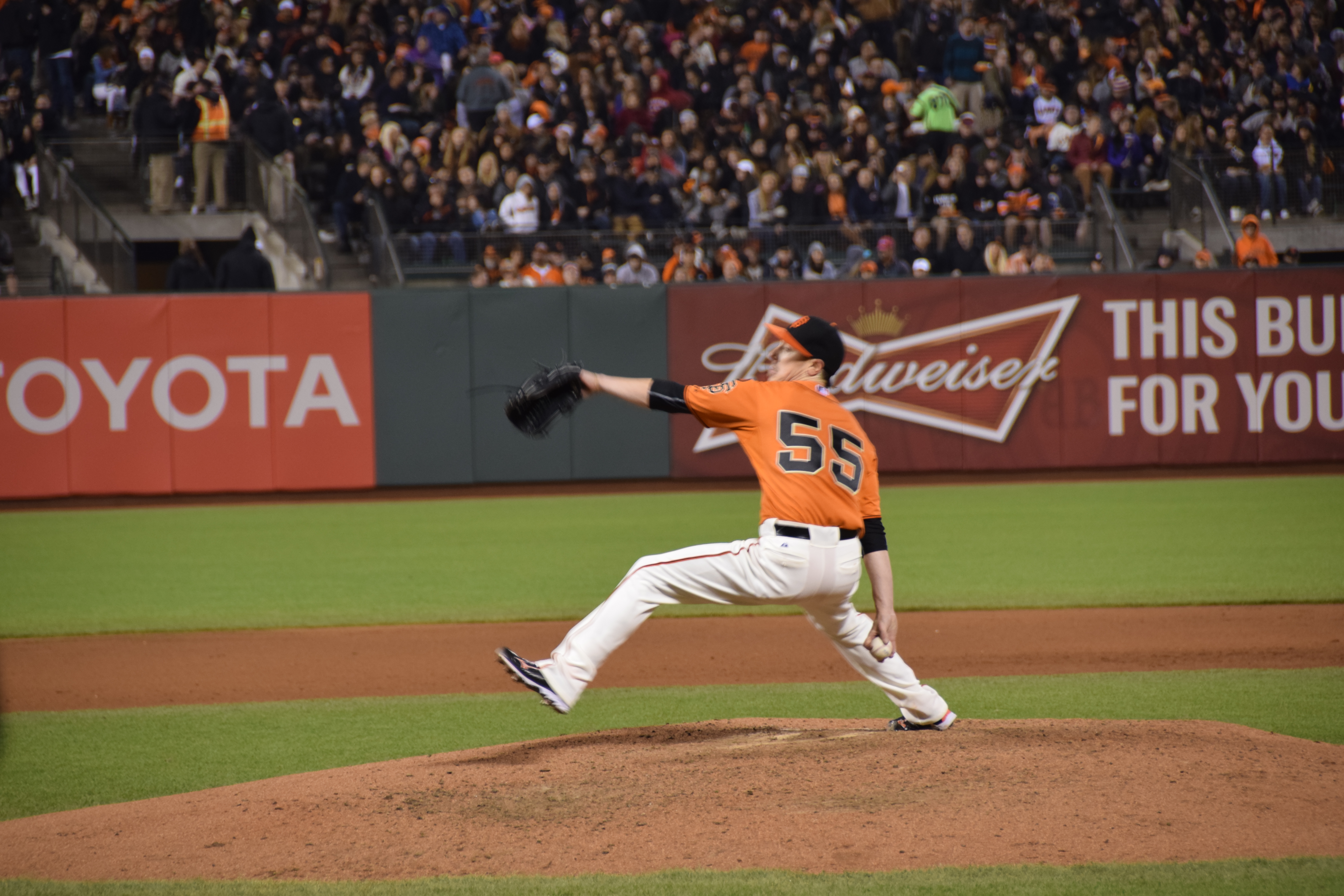 The  Freak in healthier times dangled the ball and had a motion that would turn his whole body into a flame-throwing pitching machine.
But now with his health in question, Tim Lincecum–the best Major League Baseball player ever with Filipino blood– is done for the season, according to multiple reports.
And it could signal the end of his career  as a San Francisco Giant.
Lincecum, 31, a two-time National League Cy Young Award winner for being the best pitcher in the game, four-time All-Star, and a three-time World Series Champion, is being shutdown for the rest season, San Francisco Giants general manager Bobby Evans told the Chronicle.
Lincecum has been recovering from a hip injury and sought medical treatment on Wednesday to see if surgery may be required.
I saw Lincecum last week and tried to talk to him, but with headphones on, he was riding a white motorized rover-style scooter and zipped away.
Lincecum will be a free agent in 2016 and is likely to have pitched his last inning as a Giant.
That would be hard to fathom for faithful Filipino American fans, and others, who looked on Lincecum as their special Giants hero.
Picked tenth overall in the 2006 draft, Lincecum has been the face of the franchise for much of his nine seasons and compiled a 108-83 record, with a 3.61 ERA.
The Giants are known to reward their heroes for past efforts. But Lincecum this year is being paid $18 million.
Once his health is right, Lincecum may want to test the free-agent market, but it's unlikely he'll command from other teams whatever the Giants might offer him to keep the fan-base happy.
Then again, the Giants got rid of Mays and brought him back. Baseball is strange that way. I could envision Lincecum trying Seattle, his home base, and a new league.
And then coming back to the Giants at the end.
But the most important thing now is his health. His hips were good enough for the motorized monorover. But just not ready for an MLB playoff drive.
Do they have Tommy John surgery for a pitcher's hips?
As for the Giants, they may not be good enough for a last minute playoff drive. Three one-run defeats in a row to the Dodgers made for great baseball, but were heartbreaking.
The three games embodied the frustration of an entire season.  The Giants didn't catch many breaks in the LA series and ended up falling just short. That could be the way the season ends, unless the disabled list clears and the Giants can muster one major push in September. The Giants with the second Wild Card last year have always been masters in "Just In Time."
There may still be time. But they'll need some luck too.