Archive for category news
UPDATED: In the hotly contested San Francisco Assembly District 17 race, David Chiu has issued this statement on Facebook that his opponent, David Campos, has conceded.
Close race between two colleagues that got nasty. But that's politics.
Nov.5: People hate Congress, but they like their guy. How else do you describe the way Democratic Incumbent Mike Honda in CA-17 was able to beat back Ro Khanna, the disruptive Democrat who failed despite big money and endorsements.
Goes to show you, avuncular beats upstart. In politics, style counts for something.
But Honda's victory is not enough to make Nancy Pelosi happy. She's still in the minority, but even deeper in the hole now.
It rained at the Giants parade, and on Tuesday it poured. Two more years of political smiles.
Last week she had the Senate, now all she has is a lame duck president to lean on.
And an orange rally rag to remind her what it feels like to be a World Champion.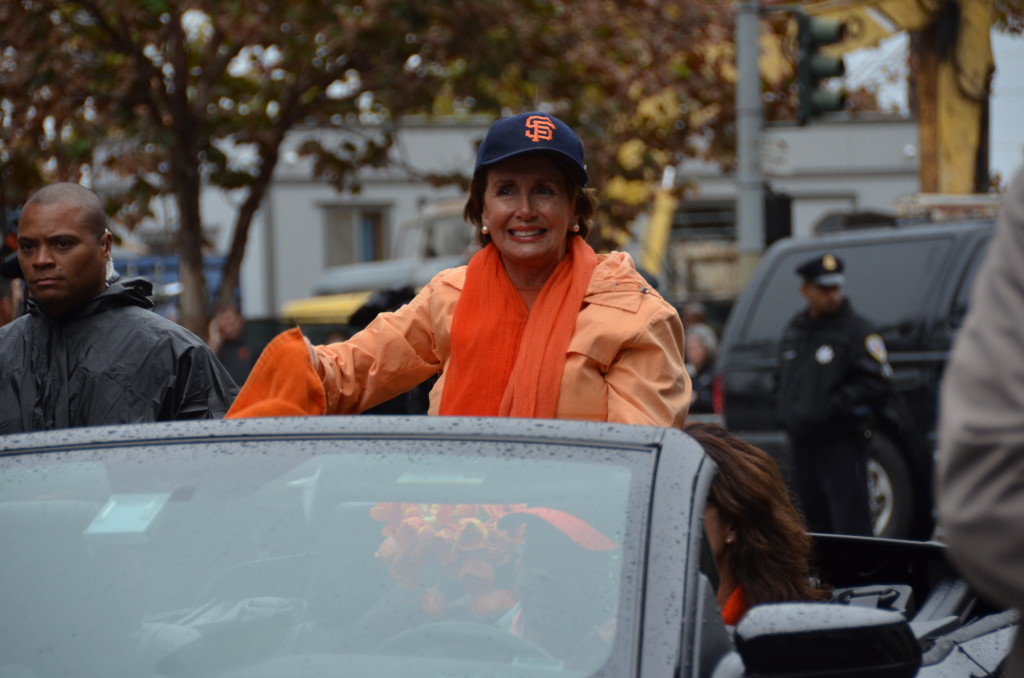 CHECK OUT THE NEW HOME FOR THE AMOK COLUMN: www.aaldef.org/blog
LIKE  and FOLLOW us on Facebook: http://www.facebook.com/emilguillermo.media
And FOLLOW  on  Twitter    http://www.twitter.com/emilamok
UPDATE: If you'd like to see future performances of my "Emil Amok: The short history of the American Filipino,"  please get on my email list at emil@amok.com.  And twitter @emilamok  
October is Filipino American History month, but then you know why I like to flip it and say "American Filipino." I don't mean to make you get new stationary and business cards, but I want to both honor those born-here. And those who are just here. It's an inclusive, unifying phrase. Because what unites are the transgressions we've all experienced. It's even more frustrating when some of our own people "don't get it," and think I'm picking a fight. I'm not. I'm trying to pick us up to go forward.
See me Thursday, Oct. 9, at 6p. It's free. Different programs. But all about Filipinos in San Francisco. Part of The Alvarado Project's "Compositions" exhibit, featuring the photographs of Ricardo Alvarado.
As always you can always read my latest things here:
CHECK OUT THE NEW HOME FOR THE AMOK COLUMN: www.aaldef.org/blog
LIKE  and FOLLOW us on Facebook: http://www.facebook.com/emilguillermo.media
And FOLLOW  on  Twitter    http://www.twitter.com/emilamok
Oh, and if you didn't see this:
I've been coming to these conventions since the very first one in the 80s. But the "convention" has evolved, as has the media itself. It's  more like a modest, yet big meeting. But still very valuable as it brings together veterans and young people who haven't given up on journalism as a career, or as a way to make a difference.
The drive for diversity plays some role in that, but the young are less conscious about the civil rights aspect of journalism. Free speech? First Amendment? The new generation hates trolls slightly more than racists. (Sometimes they're one and the same. But in this digital post-racial world, racism doesn't quite compute. Until you experience it first hand).
Generational differences in perspective actually make AAJA more interesting. In DC,  I said hello to old friends, some who met their spouses at AAJA, had babies while at AAJA. Some have kids who have entered journalism/media/writing.
My personal memory from my years of convention going? It's not asking Connie Chung a question in an open meeting about her lack of involvement with AAJA. It's not even our nice chat at the 2010 LA convention when we were both among the "Pioneers." No, my personal AAJA story is about coming back from an opening night of the first Chicago convention, and then being forced to leave the next day.
I got a call. My mother had died.
AAJA. It's  journalism, life, and death.
These days at conventions, I speak more often to young people than the veterans. (Most of the best ones have retired, or  like Dith Pran, have passed on).
In DC, I've met with young men and women who are working their way through the path we've left.
And with each one, comes a reminder of why we're all in this game to begin with and why we stay.
We're all yearning to have a voice.
This is the panel I was in, moderated by Phil Yu, Angry Asian Man, that discussed the Asian American community and the Media.