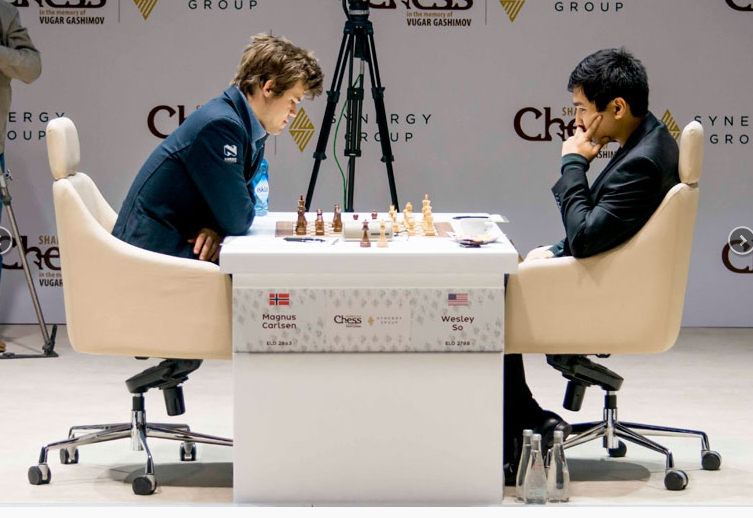 For Filipino chess watchers all over the world, this was the Paquiao/Mayweather matchup in this tournament of international grandmasters: The up and coming Wesley So  vs. World No. 1, Magnus Carlsen.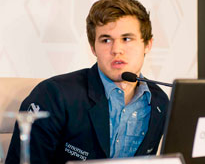 Earlier this week I asked So what it would take to win.
"Full focus," he replied in an e-mail.
When I asked him if after the U.S. Championships he could beat the highest rated player in the world,  he offered another terse reply.
"If you don't think you can beat your opponent," he said," you shouldn't be playing against him."
So went on a ponderous attack, taking more than an hour for his moves on the clock. But whatever So did, Carlsen, playing black, deftly defended with ease. Carlsen registered less than seven minutes on the clock to neutralize So. After the Queens were gone in move 36, the  game came down to each player with a rook and four pawns.
It seemed like a relatively stress-game for Carlsen, as the game ended in a draw between the two players who as teenagers once trained with each other.
Going into the final round, So at best could place second, overall.
But he'd need a full point win  against 8th seed Maxime Vachier-Lagrave;  And then Fabiano Caruana would have to beat and shutout Viswanathan Anand.
It would create a mirror of the chess world: Magnus alone at top, and a bunch of folks in a  logjam for second.
CHECK OUT THE NEW HOME FOR THE AMOK COLUMN: www.aaldef.org/blog
LIKE  and FOLLOW us on Facebook: http://www.facebook.com/emilguillermo.media
And FOLLOW my latest tweets  on  Twitter    http://www.twitter.com/emilamok