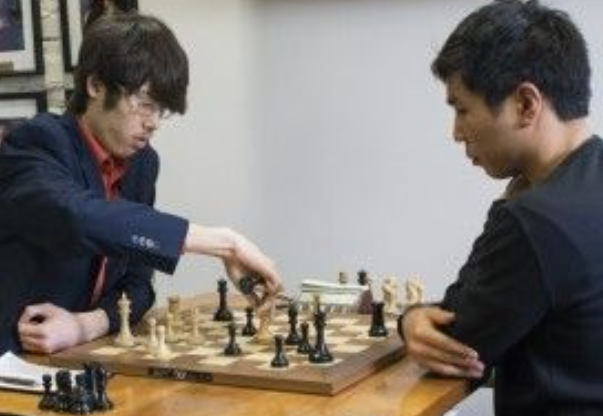 SEE UPDATE BELOW
Last week, Wesley So (right) lost to three lesser players, including his old college roommate Ray Robson, who went on to edge past Wesley for overall 2nd place in the tournament.
But that was in St. Louis.
Since then, So has gone to the other side of the world, to Azerbaijan, where he is playing like his old self.
After two matches, Wesley So seems to have regained confidence and form with dominant play, winning one and drawing one, at the Gashimov Memorial tournament in Azerbaijan.
On Saturday, So  drew his match with co-leader Vladmir Kramnik to  continue to share the top spot in the tournament.
So opened Friday night with a crushing defeat of Dutch grandmaster Anish Giri  in just 32 moves.
So, a Filipino playing as an American, disappointed last week when he failed to challenge Hikaru Nakamura for the No.1 spot in the U.S.
Personal issues between So's biological mom and the family  with whom he stays in the U.S., led to bitter arguments during that tournament. Some believe that had an affect on So's play.
So was ranked 8th in the world during the U.S. tournament.
UPDATED 4/19/15 11:16pm PDT
Wesley So beat Michael Adams of (England) in Round 3 of Gashimov.
CHECK OUT THE NEW HOME FOR THE AMOK COLUMN: www.aaldef.org/blog
LIKE  and FOLLOW us on Facebook: http://www.facebook.com/emilguillermo.media
And FOLLOW my latest tweets  on  Twitter    http://www.twitter.com/emilamok