Stephen A. likes Mayweather.  So does Foxx who thinks Marquez knockout took something out of Pacquaio? Really? Did he see Bradley 2?  The Algier fighti?
But then Foxx had to make fun of Manny's singing.
No big deal. So have I.
But does Foxx have to mock the champ's accent?
(You can  click on this  green link for the VIDEO where Jamie Fox mocks Pacquiao on ESPN's "First Take" show).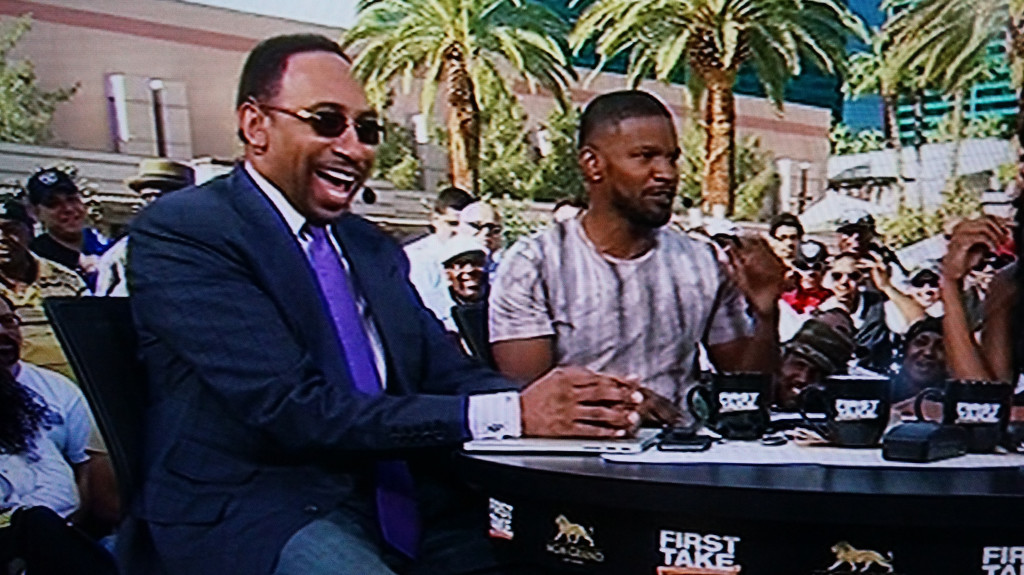 So Foxx went to the "Asian Pilipino"  accent.
And Stepnen A. and the crowd  all cracked up.
Hmm.  That's some major diss. Even after saying, "I don't mean to take anything away from Pacquiao, but…."
Would Foxx and Smith be laughing if a non-black made fun of how blacks talked?
Just axing.
Or would their sensitivity meter be on for that one?
Earlier in the show, "First Take"  co-host Skip Bayless  picked Pacquiao by a KO in the 7th.
CHECK OUT THE NEW HOME FOR THE AMOK COLUMN: www.aaldef.org/blog
LIKE  and FOLLOW us on Facebook: http://www.facebook.com/emilguillermo.media
And FOLLOW my latest tweets  on  Twitter    http://www.twitter.com/emilamok