Tim Lincecum looked like he had his stuff.  Especially after the first inning when he induced two ground ball outs and struck out Atlanta's Freddie Freeman.
As Lincecum walked back to the dugout, maybe he should have kept walking.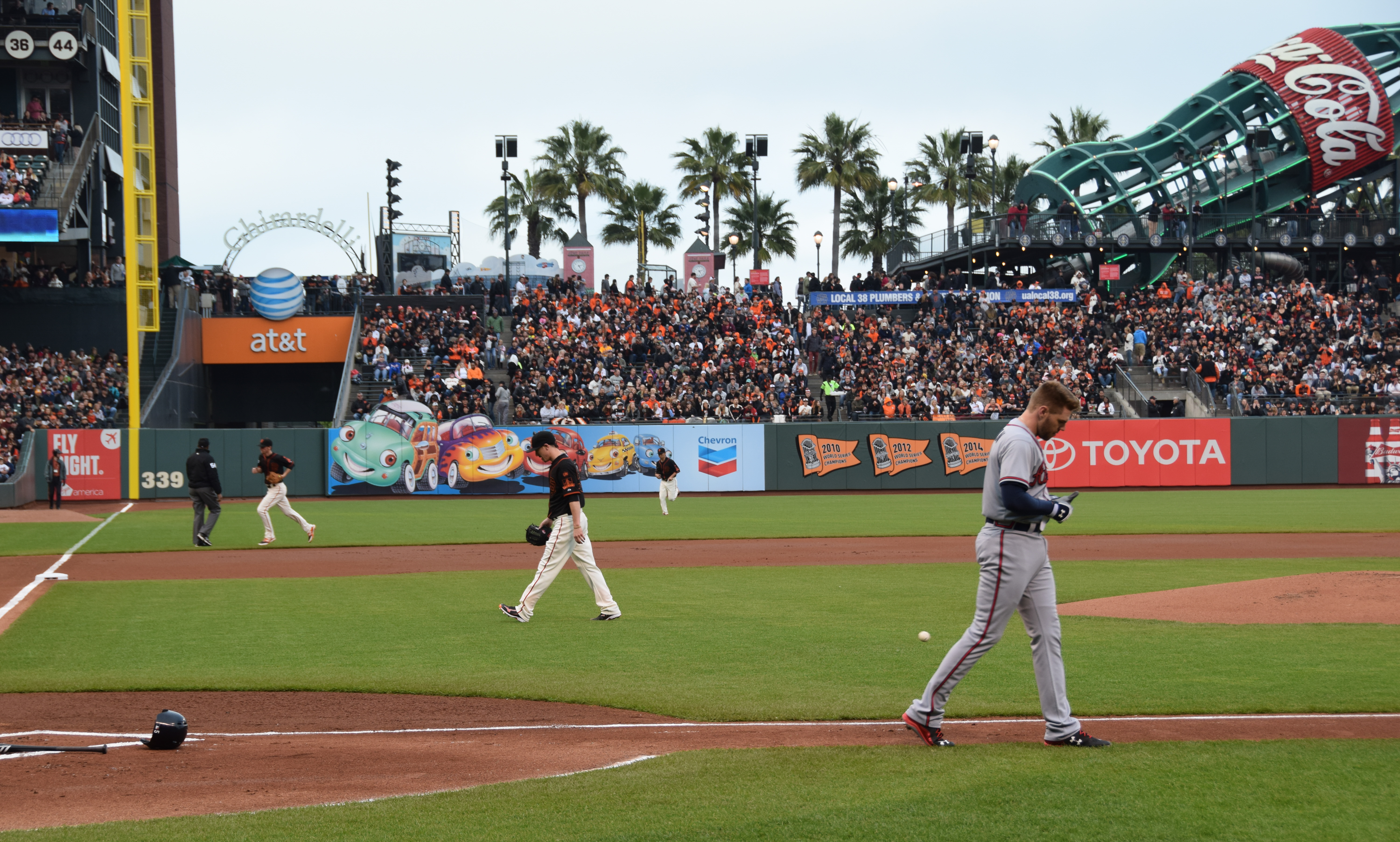 He had 5 strikeouts after 4 innings, and had at most 1 walk. But the Braves were hitting them were they ain't, scratching out one run each in innings 2-5. Suddenly, the Braves were up 4-0 and Lincecum's home scoreless streak–which  had been at 22 innings before the game, the longest active scoreless  streak in the Majors– was a distant memory.
Lincecum was done after 4 1/3 innings, with this line: 8 hits, 4 runs, all earned, 4 BB, 5 Ks, and an ERA of 3. He threw just 83 pitches, 63 for strikes.
Close enough maybe for the Giants, the best team in baseball in May, to mount a comeback?
But the difference was Braves pitcher Williams Perez, who in his third major league gets his first win.
The 24-year-old right-hander had thrown five scoreless innings against  the Dodgers in LA last Monday.  On this night he topped it with 7 scoreless against the Giants at AT&T.
Perez scattered four hits, walked 4, struck out 3.
He had the Giants number more than Lincecum had the Braves where he wanted them.
After the game, Lincecum admitted he was pressured by the Braves leadoff hitters. "They had me working out of the stretch a lot, taking an extra base as well. Stealing a couple of bases definitely put some pressure on me and I had to make better pitches in those scenarios. They put some pretty good swings on some pretty good pitches."
That they did. And the Giants didn't.
Surprisingly, the Giants did have 8 hits and left 11 on bases.  But they never seemed to be really in this game offensively.
The Braves were, and finished with 8 runs, 14 hits.
With the season about  a 1/3 done, this is a game best forgotten by all.
But it was a bobble-head night.
UPDATE:
Whatever ailed Lincecum and the Giants on Saturday continued on through Sunday. Bumgarner looked good, until he gave up that homer to ex-teammate Uribe. The Giants seemed to come back on a Joe Panik home run. But homers by Panik, Belt and Crawford just weren't enough. A blown save by Casilla, an error by Crawford, and the little things add up to a second loss to Atlanta.
Next, the Pittsburgh  Pirates.
Last time the two teams met was last year in October. It was the wild Wild Card game, one game, sudden death, winner takes on the Nats.  Bumgarner was dominant. Crawford hit a grand slam.  That's the memory you live on.  You forget this past weekend.