Once again video is our collective social conscience, or at least the instant replay of life that enables all of us to judge. High and low.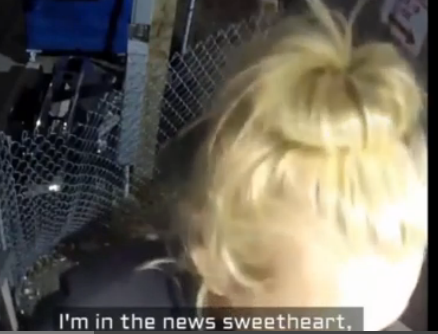 And that's what ESPN's Britt McHenry's rant at the towing company was all about.
Arrogance.
I mean really, when you begin a rant with ""I"m in the news, sweetheart," you are not talking about fat-shaming.
Should we be surprised that  TV people are full of themselves?  I watched that ESPN Britt McHenry blowup and was surprised that people were surprised.
Britt's no Reese Witherspoon, but remember how the "Wild" star threw a fit and was arrested by a cop in Atlanta?
People in the media, high and low, get these "DO YOU KNOW WHO I AM" moments. It's because "MEDIA PRIVILEGE" is more intoxicating than "WHITE PRIVILEGE." And when you are white and in the media, it's even more toxic.
For people who protest McHenry's suspension by saying it's not work related: Who do you think is watching the news? It's all those people who work at towing companies. That's the audience on the other side of the camera.
Update on McHenry: Britt backers say the tape was edited. Sure. But they didn't put the words in McHenry's mouth. Believe me, I hate tow companies as much as the next guy, but McHenry had a chance to use her power positively. And she didn't. I know what happens when you work in TV. This is the reason why beauty pageant contestants want to be anchors. It's cheap showbiz entitlement. This incident serves as  a wake up call for everyone on the "talent" side.
THAT BAGGAGE HANDLER NAPPER BANNED BY ALASKA AIRLINES
His identity is still not revealed. But I can tell he's Asian. Maybe even Filipino. It's his accent on the 911 call.  There's a magic phrase that resonated.
He said "stop it."
THOSE WORLD CHAMPION SF GIANTS
That 7-6 loss in 12 innings could become a symbol of the season.
The Giants battled and the players with something to prove, Matt Duffy and joe Panik, did what they could to extend the game, getting key hits to tie the game in the 9th and the 10th innings.
They almost did it again in the 12th.
The seventh loss in a row puts the Giants  in last place, the second worst team in the NL.
It's early, yes. But there's something about an early Thursday night extra-inning loss as the team tries to win their first game at home.
That's the kind of thing that could prophesy  a 162 game season.
A theme emerges.  Yes, the  team battles, comes back,  but comes up short by a run.  In soccer, the phrase often used is "Unlucky."
It's something a team that has won three World  championships since 2010 has rarely heard.
CHECK OUT THE NEW HOME FOR THE AMOK COLUMN: www.aaldef.org/blog
LIKE  and FOLLOW us on Facebook: http://www.facebook.com/emilguillermo.media
And FOLLOW my latest tweets  on  Twitter    http://www.twitter.com/emilamok