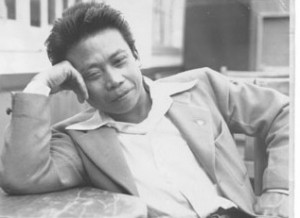 When I first met Janet Alvarado in the mid-80s, she was just like me—a young American-born Filipino.
Only she had a box of photographs and a dream.
The photographs were taken by her dad, Ricardo Alvarado. The dream was to share his vision.
Almost 30 years later,  it's all come true.
The Alvarado Project, as it's called, has been honored by the Smithsonian, toured around the country, and is about to grow in scope with another chapter–this time honoring Alvarado's wife Norberta and her beloved Leyte.
But first things first, Ricardo Alvarado would have been 100 on February 7.
It's only fitting to close the first chapter by honoring Ricardo Alvarado's centennial year.
I admit when I first saw his photographs, I didn't grasp how special they were. Why would they be? They were shots of neighborhoods that Filipinos lived in. Images of the parties Filipino families attended. They looked like my life in San Francisco in the 1950s, '60s, and '70s. My American Filipino life.
Silly me.
That's what gives them their power. The photographs recall the specialness of life that few regarded as special back then.
It was just us.
Who was looking at American Filipino life like it mattered back then? Before Asian American studies, or ethnic studies? Before there was a sense of pride within the American community?
Not many.
Ricardo Alvarado was in that first wave of immigrants to San Francisco. He came to America looking for opportunity in 1928. But instead, he found that people wanted to shut the door almost as soon as he arrived. It was the depression. The height of racism and violence toward Filipinos came in 1930. In San Francisco, we were called "monkey."
No one thought the community was particularly photogenic back then.
Typical of many Filipinos, Ricardo Alvarado endured and was able to join the Army. After WWII, he returned to marry a Filipina, start a family and buy a home in San Francisco on the GI Bill.
And the community blossomed.
The family and the community became the subjects of Ricardo's  lifelong love affair with photography.
More than the snapshots and the lineups most people took with the Brownie and  Instamatic,Alvarado was armed with a view camera,  documenting and preserving the look of American Filipino life.
As his daughter  realized, the images weren't  just for people to gaze at then.
More meaningfully, the photography was the bridge from their present to the future, so that others could wonder what it was like" back then. " 
And at their best, they represented the most artful photographs of the early American Filipino community in San Francisco, if not the entire U.S.
So while you may have placed your photos in deep storage, or heaven forbid, thrown them out as basura, Janet Alvarado knew she had something more than sentimental memories.
These were lasting images of the community.
That others didn't keep even the basic shots of everyday, make Ricardo Alvarado's photographs even more special.
That's the value of the Alvarado Project.  We call it diaspora now, but then, the global Filipino was a few neighborhoods in San Francisco, and other places in California. How did we live? No one thought we were special enough to preserve and document on film, let alone study like some lost tribe in the Filipinos.
We were more like a new colony in America.
After surviving the 1920s, '30s, and the War, American Filipinos were  just happy to be alive.
Ricardo Alvarado knew that was photogenic.
MY DAD, WILLIE GUILLERMO AND THE SOUTH OF MARKET
When we gather in the South of Market on the 15th to celebrate Ricardo Alvarado,  Janet Alvarado has been gracious enough to allow me to mention my father, the late Willie Guillermo, already a member of the Centennial Club.
Though Filipinos lived all over the city, in the Western Addition, Fillmore, and BayView, most began their journey in the South of Market.
My family started on Kissling Street by St. Josephs, then moved to the Western Addition on Fulton St. My Uncle Joe was in the Fillmore on McAllister, under the appliance store light that would blink "HOTPOINT." It was the hot spot for our family.
But Sixth Street was for fun. And that's where my Dad would often return to hang-out with the other Filipinos of his generation who saw in Sixth Street as a the playground for Ma Jong, cards, dancing.
My dad would take me to the barber college for the cheap haircuts.
This month, my dad would have been 108.
That's the irony. I thought my dad was 108 when he was alive.
Like Ricardo Alvarado, my dad came to America in the 1920s but was much older. He didn't go to war and missed out on the GI Bill. But he didn't miss out when more Filipinas were able to come to America after the war.
Until then, there weren't many Filipinas to marry. And because of anti-intermarriage laws, Filipinos were essentially a bachelor society. Roving packs of bachelors.
It meant that when more were able to find wives, and start families later in life, there would be a lot of older dads.
I had one of them.  And I admit that as a kid I was ashamed, not of his being Filipino. It was his being old. He was grandfather and father all rolled into one. And he took me to that damn barber college for the cheap haircuts.
Today, Dad as a perennial 108-year-old makes sense.
And as I approach 108 myself, I am far more sympathetic.
It was history that helped me understand, and photographs that helped me recall–not just where we came from, but what we had overcome.
It is said that the offspring of the immigrants were the "bridge" generation. To what? To American life.
Maybe, but the bridges that have the lasting connections between the ancestral home and the present were formed by our fathers, the Manongs like my dad and Ricardo Alvarado.
On the 15th, we'll honor them, members of the Centennial Club.
INFORMATION:
Date: Saturday, February 15, 2014 The Centennial Celebration
Time: 2 pm to 5 pm
Place: BAYAHIHAN COMMUNITY CENTER, 1010 Mission Street (near 6th Street), San Francisco, CA
Parking lot on 6th & Mission Street next to Bayanihan Center or at 5th & Mission Garage
Join us in a community salute to the San Francisco pioneering generation and communities. Remarks and discussion from invited guests celebrating Alvarado's photographs in a nod back to "Through My Father's Eyes".