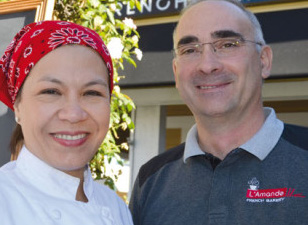 The case involving Analiza Moitinho de Almeida, her husband Goncalo, and her powerful father Juan B. Santos, the head of the Social Security System in the Philippines got more interesting late last week.
The court docs were filed last Friday in Los Angeles that ups the total damages and costs sought by workers to $15.2 million.
The court is presuming the bakery owner defendants, the Almeidas, have fled the country.   As a consequence, the court directed the plaintiffs to file for a default judgment.
Sources tell me that Almeidas have completed the sale of  their home in L.A. worth more than a million dollars this month.
Are they hiding assets? The Almeidas say no.
It's unclear, however, if the profits are totally out of reach of the court if a judgment is awarded to  the 11 former employees suing the Almeidas
My story here in the Philippines' top daily.