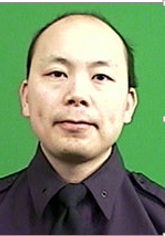 I can't help but feel for NYPD Officer Wenjian Liu, 32,  and his partner, Officer  Rafael Ramos, 40, gunned down on Saturday in Brooklyn as they sat in a squad car.
The shooter was a man who dared to invoke the names of Eric Garner and Michael Brown.
This was a blasphemy to the memory of those two men. The gunman, who eventually took his own life, took the names of Garner and Brown in vain.
But he only confused the situation by shooting Liu and Ramos.
It does, however, clarify  an important point and hopefully can inform the misguided.
When people have protested the deaths of Garner and Brown, they weren't anti-cop. They were anti-senseless gun violence.
In fact, they were pro-justice, pro-community, pro-humanity.
The senseless killings of Officers Liu and Ramos were not pro-justice, pro-community, pro humanity.
No one is anti-cop. We're anti-bad police work.
As an Asian American of Filipino descent, I feel for Wenjian Liu, his wife, his family and his fallen partner Rafael Ramos.
We talk about the need for diversity in law enforcement.
We need it on the other side of the equation too–on the officer side.
The gunman couldn't have picked a more diverse team of cops in the NYPD.  Liu, a seven-year veteran. Ramos, a two year vet. Both sitting in their car, without even a chance to defend themselves.
This from the New York Times:
Officer Liu, whose family comes from Taishan, in Guangdong Province, China, attended the College of Staten Island and Kingsborough Community College. He was an auxiliary officer before becoming a police officer in 2007.
Bin Fin Liang, 56, said Officer Liu would drop by his restaurant supply shop on the way home from the Police Academy. Mr. Liang asked him why he wanted to be an officer.
"I know that being a cop is dangerous but I must do it," Officer Liu replied, his friend said. "If I don't do it and you don't do it, then who is going to do it?"
Mr. Liang, who often takes the Manhattan Bridge to work, said that he would see Officer Liu on patrol at the foot of the bridge on the Brooklyn side.
A family friend, Dr. Jonathan Chang, 55, emerged from the house and said the widow was in bed, inconsolable. Officer Liu's parents had not eaten yet, and it was already late in the afternoon. The officer's father irons in a garment factory. "Completely distraught," Dr. Chang said in Mandarin. They repeated, over and over, "My son is gone."
R.I.P. Wenjian Liu and Rafael Ramos.
CHECK OUT THE NEW HOME FOR THE AMOK COLUMN: www.aaldef.org/blog
LIKE  and FOLLOW us on Facebook: http://www.facebook.com/emilguillermo.media
And FOLLOW  on  Twitter    http://www.twitter.com/emilamok