Currently,  I am in Asia on an assignment, but not in the Philippines. Feeling so close, yet so far. So what I'm doing is considering what I can do personally, if not professionally. We all feel the human tug of compassion. Maybe more than a tug for some.  
That's why I turn to CRS.
This group works with people on the ground and is very efficient in how they do things. They also work with diverse groups of people. Not just Catholics. If you're wondering how to give, I use this group to get money to the Philippine on an ongoing basis. An Asian American heads it up. And the organization is extremely accountable. No overpaid people here.
It's hard to make sure money and aid will get to the Philippines without being shaved down by admin costs. If you're looking for a charity with a great efficiency rating, Catholic Relief Services is worth looking into.
https://secure.crs.org/site/Donation2;jsessionid=9A142990A14AADFE61CBDC06ADF1E4AB.app260b?df_id=6140&6140.donation=form1
Read my opinion piece on the Philippines on CNN.com.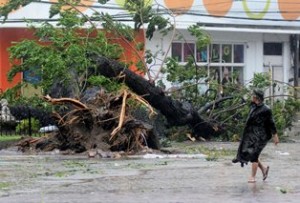 CHECK OUT THE NEW HOME FOR THE AMOK COLUMN: www.aaldef.org/blog
And LIKE  and FOLLOW us on Facebook: http://www.facebook.com/emilguillermo.media
And FOLLOW  on  Twitter     http://www.twitter.com/emilamok