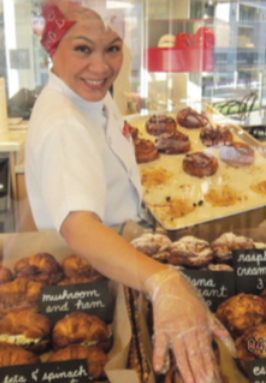 In a direct communication with Emil Guillermo Media, Ana Moitinho de Almeida,the daughter of Juan B. Santos, and the co-owner with her husband Gonzalo Moitinho de Almeida of two recently closed California bakeries, admitted that millions of their joint assets were sold recently—not to protect or hide assets—but to fund their expensive legal battle against 11 former employees.
The Almeidas were socked this spring with a $1 million dollar civil suit alleging labor trafficking, labor rules violations, and immigration violations at their L'Amande bakeries in Beverly Hills and Torrance.
But in the last few months, the Almeidas have been liquidating and re-positioning assets, including their bakeries,real estate investments, and Los Angeles area home.
"We needed to find funding somewhere," Almeida answered in response to my questions via e-mail. "Closure of the bakeries? How can a business survive when …charges, augmented by aggressive press, has descended without mercy, or fair investigation?"
It is the first time the Almeidas have made direct public comments on their asset situation.
Almeida insisted it wasn't to hide or keep money from the suit, but an attempt to fight what she calls are unfair charges being made by E-2 visa workers whom she sponsored in an "investor visa program."
Almeida has been posting pictures of her former employees showing that the workers' allegations are trumped up charges and don't reflect how they were being treated while working for the Almeida bakeries.
When I asked her why she has been quiet on the matter, she said: "How could I not have declined at that time when the mother load of a lawsuit just hit us? We are a small bakery. We did not have lawyers standing by to help us."
I'll have more from Almeida. In the meantime, here's my  piece on the Almeida's sale of assets, as I first reported  in the Philippine Inquirer, Manila's top daily.
See my latest columns on the AALDEF blog.