Tag Archives: "Crazy Ex-Girlfriend
Hey, it's virtual FANHS museum popup!
Not since my perm days as a local TV guy in San Francisco, right?
But Vincent Rodriguez III, born in San Francisco and raised in the Filipino enclave of Daly City, California, wouldn't have his chance on network TV without Rachel Bloom.
Bloom is seen her taking  stage as her name is called for the Critics Choice Award for best  actress in a comedy series, CW's "Crazy Ex-Girlfriend."
But I'd name her best executive producer for insertion of a Filipino American story line in a network series.
Read my Column about the show and Vincet Rodriquez III and you'll see why I have this obsession about this show (at least this season).
http://aaldef.org/blog/emil-guillermo-vincent-rodriguez-iii-rachel-bloom-cws-crazy-ex-girlfriend-is-my-kind-of-show.html
Then go to my Q and A with Vincent (edited transcript) on NBCNews.com:
http://www.nbcnews.com/news/asian-america/diversity-authenticity-dinuguan-how-crazy-ex-girlfriend-changing-tv-n501486
And you get to see the great performance of Amy Hill, who plays the Filipino mom. One of the original cast members from Margaret Cho's "All American Girl," Hill has endured the scene with her comic genius intact.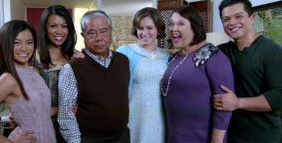 To watch "Crazy Ex-Girl Friend" for free (at least until Monday): You can start from the beginning, but my favorite is the Thanksgiving show.
http://www.cwtv.com/shows/crazy-ex-girlfriend/my-first-thanksgiving-with-josh/?play=b9e6091b-84f9-4b56-9656-058268f72a0c
If you're still snowbound, there's one good reason to move from east to west—to  Daly City, California, West Covina North.