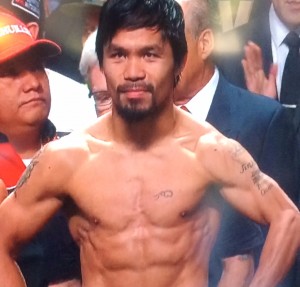 When I saw Manny Pacquiao and Timothy Bradley fight for the first time on June 9, 2012, I was like most of the free world: Dumbfounded by the results.
Pacquiao clearly dominated the fight, though Bradley seemed to finish strong. Still, it wasn't enough for a rally that actually could win the fight. How do you say: "Peex."
Who needs an undercover camera? It was there for all to see. We knew who won the fight two years ago.
And now Pac Bradley 2 is back before Easter. For redemption?
Jim Lampley, the HBO announcer/sportscaster, on one radio show recently said the fight  wasn't about a fix, but more about "bad judging."
Lampley's a good guy, but he has his biases working for the network that has a monopoly on the live fight.
There was something smelly about that fight, and two years doesn't sufficiently deodorize the matter.
But we're going to have to wait for someone's deathbed confession before we get the real truth.
In the meantime, Pacquiao needs money. He's motivated by taxes, and the peso/dollar exchange rate. And he has a whole barangay for an entourage.
ESPN has both fighters getting $6 million, but Pacquiao gets a guaranteed $20 million according to a report last week.
We also don't have much time left to admire Pacquiao, in all honesty.
I've been saying he should retire now. But he's on record saying "two more years."
So for curiosity sake, I will lift my moratorium.
Pacquiao is the Filipinos' alter ego, and I'm willing to suspend my disdain for pro boxing to watch him—just to see if he has anything left. The fight might be closer with two years for Bradley to get better and Pacquiao to get older.
Consider a graph with two lines:  If P is at a high level but  arcing down, and B is at a lower level but still rising, if the fight is taking place where the lines intersect it could be a toss up. If the  lines are close but not intersecting, then P should still have enough of an edge. That's where I think we are.  Based on the last fights of both, Bradley gave Provodnikov a good fight. P gave Rios a beating. Based on that Freddie Roach puts Bradley as similar to Rios. But that Provodnikov fight of Bradley was better than that.  And let me not forget that Bradley/Marquez fight, where Bradley fought a completely different style. It all points to Bradley getting better, whereas Pacquiao is getting older. So we may be close to that P/B intersection, but not quite to make it a toss-up.
Prediction? Lots of rounds 10-9 Pacquiao, with Pac the ultimate winner.
(Live tweeting here at www.amok.com and on twitter@emilamok