I've often wondered why schools don't have more family friendly schedules around the holidays to make it easy for kids attending schools far from home.
Let's face it. It's a drag to be stuck in a dorm for the holidays. But I know, there will probably be a few kids left to fend for themselves this year.
Thanksgiving is just too short. It's also too close to the end of the school year and Christmas for some families to budget a second cross-country trip home.
It does, however, create an opportunity for one of higher ed's best diversity moments:  the personal invite home from a roommate's parents.
As a scholarship kid from California going to school in the Boston area, most people at my school didn't know what a Filipino American was.
At the time, the only connection to the Philippines most had was maybe World War II. They'd seen the 1945 John Wayne film, "Back to Bataan," and might have remembered the Filipino military man in the movie—played by Anthony Quinn, who just happened to be a Mexican American Hispanic actor, known more for playing a Greek (Zorba) but who played the Filipino hero, Capt. Andres Bonifacio in "Bataan."
So imagine when I showed up at dinner as the cold, hungry, stray college kid. The perfect appreciative dinner guest.
I was also American. Who only looked foreign and exotic when I visited my college buddy's family in tony Westchester County, New York.
The centerpiece turkey, I'd had before, of course–but with white rice (Asian style, no Uncle Ben's).  It was all the other stuff at the other meals that were revelations to me. The latkes, the knishes, etc. Lox, white fish, sable.
My Jewish American roommate took all that for granted. For me?  It was a gastronomic adventure.
The next year, my Greek friend took me to his family's home in Queens.  The experience was similarly delightful. Turkey again, of course, focused the meal, but along the way there were the dolmas (stuffed grape leaves), hummus (chick pea puree), baba ghanoush (eggplant) side dishes that I never had at a Filipino holiday meal. 
Top it off with two kinds of baklava, galactoboureko and Greek coffee, and I was a happy pilgrim.
It was such a memorable diversity moment, I figure we should replicate it for my son, a freshman at Berkeley.
I told him to be on the lookout for the East coast stray.
Dutifully, my son found and invited one of his suite mates, a Chinese American kid from New Jersey to our humble home for Thanksgiving.
It's not the Filipino American urban home of my mom and dad.  My wife, from Missouri, of Irish/Scottish descent, and I have what I call a "Caucapino" home, and will be preparing a much more traditional meal—albeit vegetarian.
But we've got our fusion thing happening too.  I just got back from Asia and can whip up a wicked Thai curry recipe from scratch.
I have also developed this unique craving for a special fruit called durian, often called the "King of Fruit."
On a fruit level, it is the absolute test of diversity and tolerance.
It's also out of season, but we will  have it in some form, for sure.
We have hungry college kids to feed. And we all  have plenty to be thankful for.
I've played basketball at the Chinese Rec Center in San Francisco's Chinatown as a kid, but this was a one-on-one game no one would have expected.
An undocumented Asian student in America, Ju Hong, 24, a Dream activist, was one of those with an invite to the special presidential event.
Hong was supposed to be merely ornamental, not a catalyst.
SEE THE REST OF THE COLUMN ON THE ASIAN AMERICAN LEGAL DEFENSE AND EDUCATION FUND BLOG.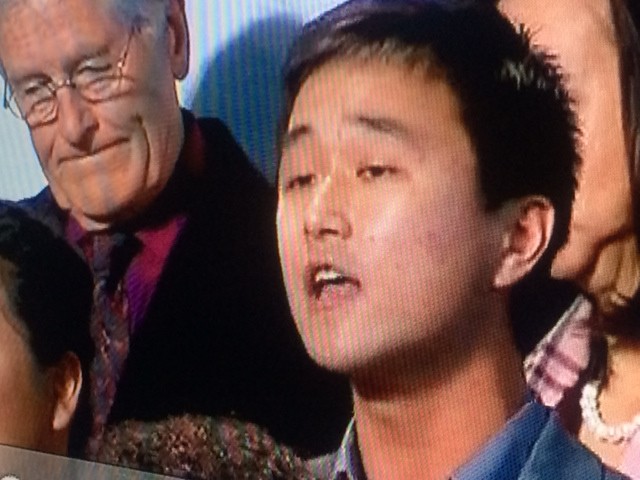 CHECK OUT THE REST OF THE COLUMN ON NEW HOME FOR THE AMOK COLUMN: www.aaldef.org/blog
LIKE  and FOLLOW us on Facebook: http://www.facebook.com/emilguillermo.media
Manny Pacquiao, wet with sweat and Brandon Rios' blood, took not just Leyte and Tacloban, but the entire country of the Philippines and lifted them up high in the ring.
It may not stop pneumonia or dysentery, but anything positive is better than the trickle of aid typhoon victims seem to  getting these days.
And Pacquiao boxing victories, the first in two years, have been in short supply.
Now that we have one, we should see Pacquiao/Mayweather now.  
Neither can wait, as time, skills, and fan interest all begin to wane.
But now things are spiking as Mayweather talks his pound-for-pound  trash with no one better to fight. And Pacquiao is finally back on track.
Both men want/need the money. 
Even Promoter Bob Arum was talking it up BEFORE Pacquiao's Brandon Rios fight.
It's going to happen.
Pacquiao  did show the world he still has enough gas to go 12 top-flight rounds with  anyone after his unanimous victory over Rios in Macao.
Rios was a bigger, but a slower opponent, and coming off a disappointing rematch with Mike Alvarado (who in turn was beaten by Pacquiao's old sparring partner Ruslan Provodnikov).
Pacquiao was coming off a two fight losing streak–one loss where he was clearly robbed  (Bradley), and the other , that knockout to Juan Marquez.  I just never saw Rios in Pacquiao's league, but there was that thought was maybe Manny was on the decline.  IT was the only way Rios had a shot.
But Saturday showed talk of retirement was premature for the Pacman.  He's got  a lot more life than an old video game.  The quick Pacquiao dominated Rios in the hit parade, sometimes exchanging at a 3 or 4-1 clip, (3 or 4 Paquiao counterhits when Rios opened up with a punch).
Still, there were some moments where Pacquiao just did not look nearly as confident as he's been in the past. Even HBO commentator Roy Jones noticed something in Paquiao's 'body language."  Mayweather folks may have seen that sort of thing as an edge F Jr. can exploit in a matchup. 
Junior is so much quicker than Rios who seemed to land his most effective punches while grabbing Pacquiao. If Mayweather  believes he has that kind of edge on Pacquiao, it could be the confidence boost to finally say yes to the fight without setting up all excuses on drug testing and such that have only mucked up negotiations in the past.
Pacquiao could schedule one more fight, a Bradley fight to avenge the grand theft. Or one fight against  Provodnikov, which would be a great fight (and far from a sure win for Pacquiao). But it sure wouldn't be the same pay day for Manny.
He just had to show exactly where he is at this point. Still a good fighter, but no longer one with a "turn-off –the-lights"  KO punch.
That's why I think Mayweather saw the fight Saturday and saw dollar signs.
The Rios fight did nothing more than re-open the negotiations for the fight we all want to see.
I bet it happens now.
UPDATE:
On the web, I noticed talk about Pacquiao's speech (presumably from his post-fight comments in the media), saying that Pacquiao should have a translator. Absurd. Pacquiao's facility to speak to the people is not the issue. His gift is he speaks like a regular Filipino guy. 
In the U.S. we have Joe Sixpack. In the Philippines, it's Juan Cockfight.
Pac does show poorly if you put him up next to a polished public speaker or a professional pol who graduated from the School of Florid Colonial English with a B.S.
That's when Paquiao's fists do the talking.
Pacquiao might benefit from a Henry Higgins-type if Pygmalion were "Pac-malion." But the major selling point of Pacquiao is his "man of the people" charm. He's just like them. A regular guy who climbed out of poverty in the Philippines to achieve wealth and world-wide fame.
A translator? Let him speak the way he does. Pacquiao just needs policy folks around him if he's really serious about doing more in public life than being the local pol who brightens peoples' lives and fixes their potholes.
CHECK OUT THE NEW HOME FOR THE AMOK COLUMN: www.aaldef.org/blog
LIKE  and FOLLOW us on Facebook: http://www.facebook.com/emilguillermo.media
And FOLLOW  on  Twitter     http://www.twitter.com/emilamok