I can't help but feel for NYPD Officer Wenjian Liu, 32,  and his partner, Officer  Rafael Ramos, 40, gunned down on Saturday in Brooklyn as they sat in a squad car.
The shooter was a man who dared to invoke the names of Eric Garner and Michael Brown.
This was a blasphemy to the memory of those two men. The gunman, who eventually took his own life, took the names of Garner and Brown in vain.
But he only confused the situation by shooting Liu and Ramos.
It does, however, clarify  an important point and hopefully can inform the misguided.
When people have protested the deaths of Garner and Brown, they weren't anti-cop. They were anti-senseless gun violence.
In fact, they were pro-justice, pro-community, pro-humanity.
The senseless killings of Officers Liu and Ramos were not pro-justice, pro-community, pro humanity.
No one is anti-cop. We're anti-bad police work.
As an Asian American of Filipino descent, I feel for Wenjian Liu, his wife, his family and his fallen partner Rafael Ramos.
We talk about the need for diversity in law enforcement.
We need it on the other side of the equation too–on the officer side.
The gunman couldn't have picked a more diverse team of cops in the NYPD.  Liu, a seven-year veteran. Ramos, a two year vet. Both sitting in their car, without even a chance to defend themselves.
This from the New York Times:
Officer Liu, whose family comes from Taishan, in Guangdong Province, China, attended the College of Staten Island and Kingsborough Community College. He was an auxiliary officer before becoming a police officer in 2007.
Bin Fin Liang, 56, said Officer Liu would drop by his restaurant supply shop on the way home from the Police Academy. Mr. Liang asked him why he wanted to be an officer.
"I know that being a cop is dangerous but I must do it," Officer Liu replied, his friend said. "If I don't do it and you don't do it, then who is going to do it?"
Mr. Liang, who often takes the Manhattan Bridge to work, said that he would see Officer Liu on patrol at the foot of the bridge on the Brooklyn side.
A family friend, Dr. Jonathan Chang, 55, emerged from the house and said the widow was in bed, inconsolable. Officer Liu's parents had not eaten yet, and it was already late in the afternoon. The officer's father irons in a garment factory. "Completely distraught," Dr. Chang said in Mandarin. They repeated, over and over, "My son is gone."
R.I.P. Wenjian Liu and Rafael Ramos.
CHECK OUT THE NEW HOME FOR THE AMOK COLUMN: www.aaldef.org/blog
LIKE  and FOLLOW us on Facebook: http://www.facebook.com/emilguillermo.media
And FOLLOW  on  Twitter    http://www.twitter.com/emilamok
UPDATED: In the hotly contested San Francisco Assembly District 17 race, David Chiu has issued this statement on Facebook that his opponent, David Campos, has conceded.
Close race between two colleagues that got nasty. But that's politics.
Nov.5: People hate Congress, but they like their guy. How else do you describe the way Democratic Incumbent Mike Honda in CA-17 was able to beat back Ro Khanna, the disruptive Democrat who failed despite big money and endorsements.
Goes to show you, avuncular beats upstart. In politics, style counts for something.
But Honda's victory is not enough to make Nancy Pelosi happy. She's still in the minority, but even deeper in the hole now.
It rained at the Giants parade, and on Tuesday it poured. Two more years of political smiles.
Last week she had the Senate, now all she has is a lame duck president to lean on.
And an orange rally rag to remind her what it feels like to be a World Champion.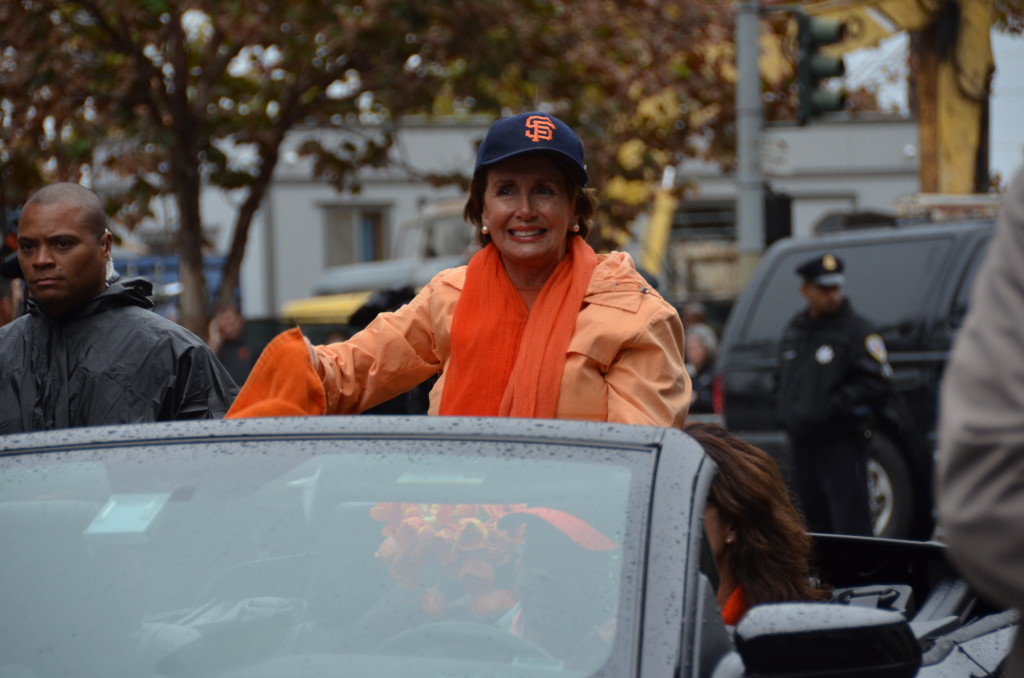 CHECK OUT THE NEW HOME FOR THE AMOK COLUMN: www.aaldef.org/blog
LIKE  and FOLLOW us on Facebook: http://www.facebook.com/emilguillermo.media
And FOLLOW  on  Twitter    http://www.twitter.com/emilamok
I was at the #SFGiants parade last week and saw the massive throngs of fans there. I rode on the bus with the Panda, San Francisco's baseball idol. But what if baseball were politics? What politician would command this today?  Anybody? Or is the faith in our democracy so low, they'd be lucky to get a tenth of this kind of adulation.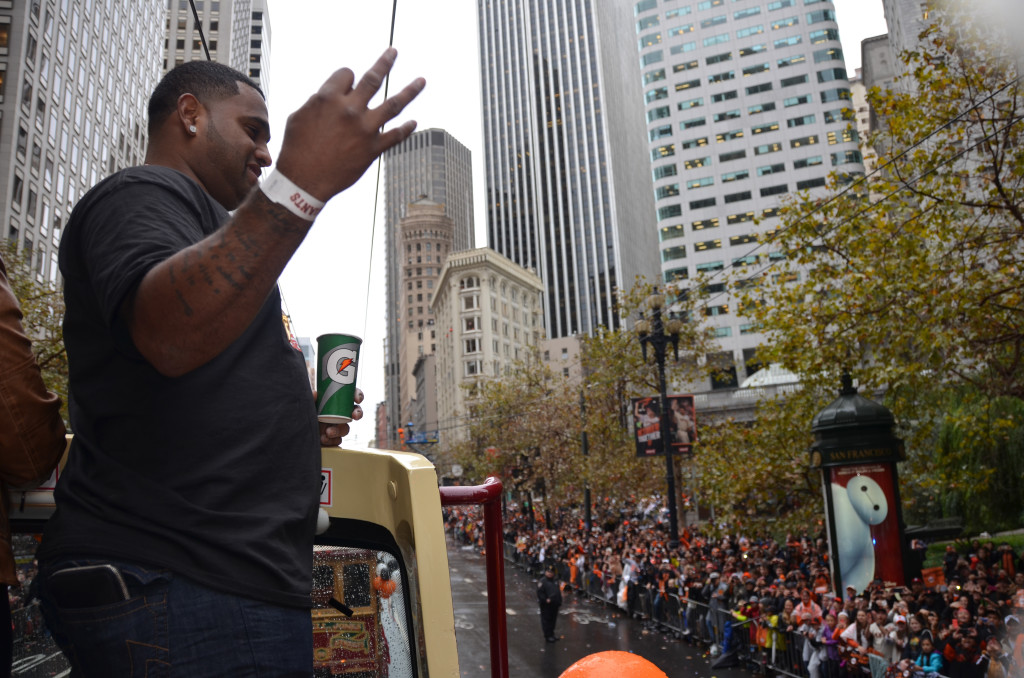 Seeing all those people made me wonder  how many of then might actually do something in the not so distant future that's really important– like vote in the Midterm elections.
Most people forget,  or don't bother.  Even when they're registered.  And the rain? Biggest vote suppressor since Jim Crow.
I started thinking this when I saw  Minority Leader Nancy Pelosi at the parade. It was raining on her.
And I caught her in a moment where the exuberance of the parade had paused for a second.
And I wondered if she were thinking how when all this was over, she would have to inevitably think about Tuesday.  Or maybe she was thinking about Tuesday for a brief unguarded second.
I've actually talked to Nancy many times in the past. So I went up to her car by her security folks and was able to talk briefly with her.  When I asked her about the election on Tuesday she had a terse response. "We'll see. We're working hard on that," she said.  And then the security guy brushed me away.
Pelosi  wasn't sounding much like a former speaker about to regain power once the Democrats take over the House. May not be in the plans. Already, I'm hearing from insiders about the Senate. They say if the Democrats lose there, it may be a relief because then the Dems can blame the Republicans wholeheartedly.
That's some consolation for the Dems. From half-blame to no-blame.
Like I said, wherever you are, whoever you vote for, do vote on Tuesday, Nov. 4.
Sports fans, it's Democracy's Game 7.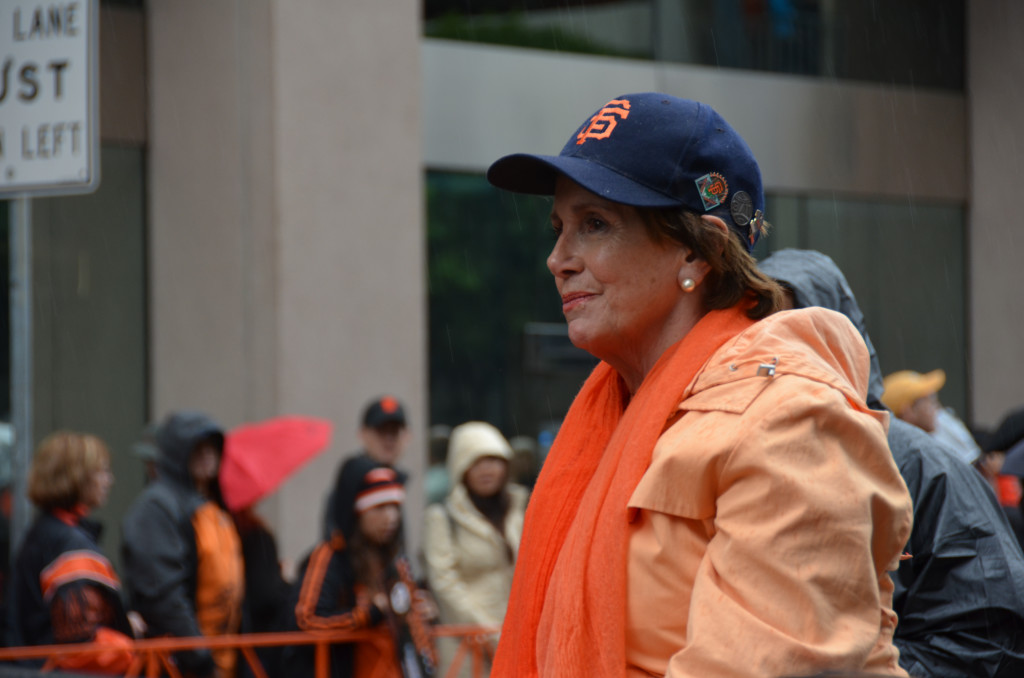 CHECK OUT THE NEW HOME FOR THE AMOK COLUMN: www.aaldef.org/blog
LIKE  and FOLLOW us on Facebook: http://www.facebook.com/emilguillermo.media
And FOLLOW  on  Twitter    http://www.twitter.com/emilamok