Posts Tagged Tim Lincecum
I am still buzzed about that dramatic home run by Travis Ishikawa. I wrote about it on the AALDEF blog here.
I was in the stadium that night and took this picture as Ishikawa was approaching home.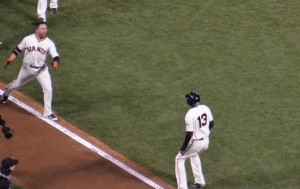 He's slammed down his helmet in exuberance, and is confronted by one of the runners who scored ahead of him, Joaquin Arias.
But notice the player in the left corner.
It's Tim Lincecum, heretofore, the most incredible Asian American native born major league player of part-Filipino heritage ever.
He's never been on the margins in his career. But he is now.
Lincecum hasn't pitched an inning in the post-season. And in those times when his number would be called, it's been someone else. Petit, most notably. But also Strickland. And the specialists like Lopez and Affeldt.  Lincecum can't get in the game. Manager Bruce Bochy has him slotted where he can be trusted. Top of a fresh  inning where any damage due to Lincecum's control issues can be minimal. But the longer Lincecum goes without pitching, you wonder how ready he'll be for any situation. You kind of hope he doesn't get in, because it means the Giants' starter was ineffective, and the team is losing. Meanwhile between injured Cain's $20 million a year, and ineffective Lincecum's $17 million, that's nearly $40 million on the Giants' bench.
And the team's still winning.
From having talked to Lincecum in the past, I know his attitude is, "I'll pitch whenever they tell me." He's always positive; always a team guy. He's never had his status fall like this. But I think, he'll use this to come back stronger than ever.
I've always said he had an Eckersly like career arc forming. If he uses this period to get his mechanical issues straightened out, the man who never ices his arm, could find there's a formidable second act in his future.
Just an odd thing to catch him on the edge of the frame, watching Ishikawa–who has never been  a star, always a marginal guy. But in Game 5, he was the man of the hour. And for more than just baseball reasons. See the AALDEF blog for that story.
CHECK OUT THE NEW HOME FOR THE AMOK COLUMN: www.aaldef.org/blog
LIKE  and FOLLOW us on Facebook: http://www.facebook.com/emilguillermo.media
And FOLLOW  on  Twitter    http://www.twitter.com/emilamok