For non-fans of the SF Giants, "C. Heston" is Chris, not Charlton.
But the way the team is running these days, they can use a guy who can walk on water.
Still, they'd settle for someone who could hit with men on base.
In the home opener, the Giants left 12 men on base and went 0-7 with runners in scoring position.
That's a lot of offensive tease and fail. It's a pattern Giants observers have seen before.
The Giants lost to the Rockies just 2-0, making the home team's opening day highlight Heston's good pitching which kept the game close. (I mean we're not counting Madbum on the horse as a game highlight, are we?)
On these kind of pop-less bat  days, Giants fans may have to grow to love Nori Aoki.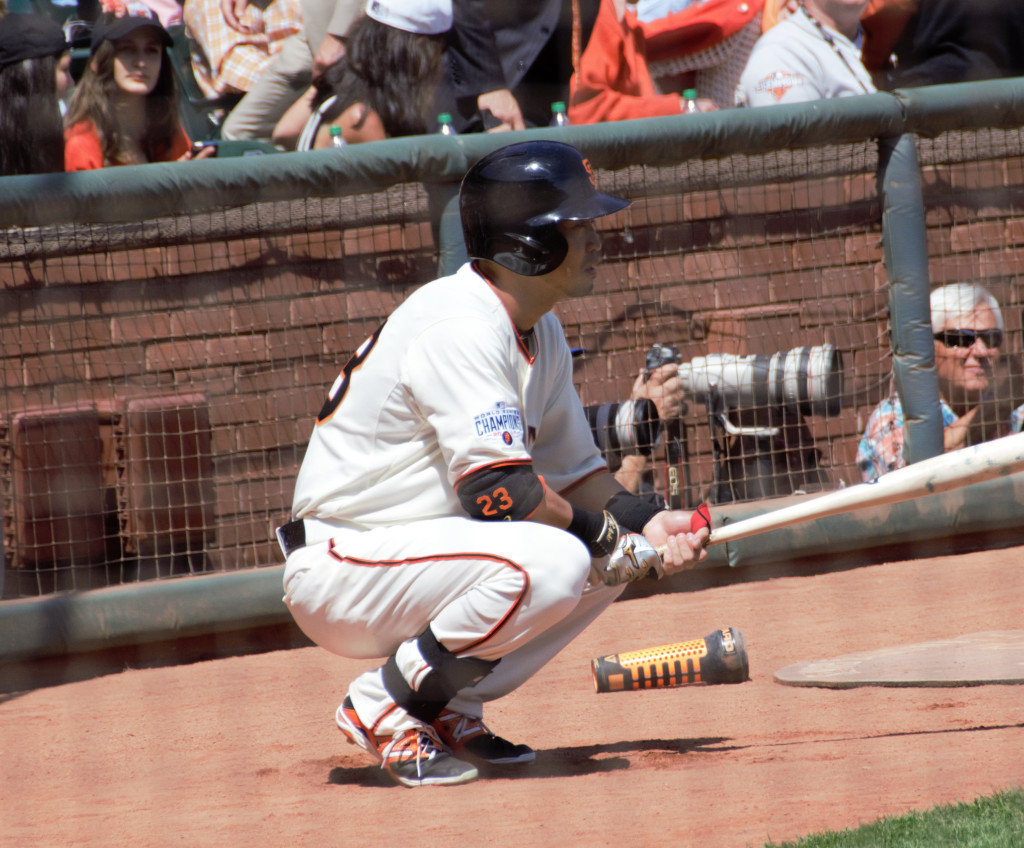 That's Aoki doing his impression of Buster Posey.
From the first at bat at the leadoff position, Aoki was  offensive spark on Monday.
The new Giants left-fielder has a 16-game hitting streak dating back to last season with World Series opponent, the Kansas City  Royals, who incidentally  have started the new season undefeated.
Aoki, a skilled contact hitter, finished the opener with two hits and is now hitting .412. .
Shouldn't take long for fans, especially with the Giants large Asian American fan base, to warm up to Aoki.
But maybe the Giants will end up missing Kung Fu Panda, Pablo Sandoval more than they think.
Sandoval  made his mark in October and with his  big personality, it all contributed to the Giants identity as a champion.
Now that he's gone, the team is really all about Posey and the pitchers.
And almost all of them  are "lead by example" guys.
Sandoval led by his gut, literally and figuratively. Even when he was in a down cycle production wise, he was still entertaining to watch.
Maybe Pence will come back after his injury and spark the team.
But I sure felt the loss of Sandoval in the home park when I was there on Monday.
It's just strange not seeing any panda hats in the stands for the first time in years.
Remember those days?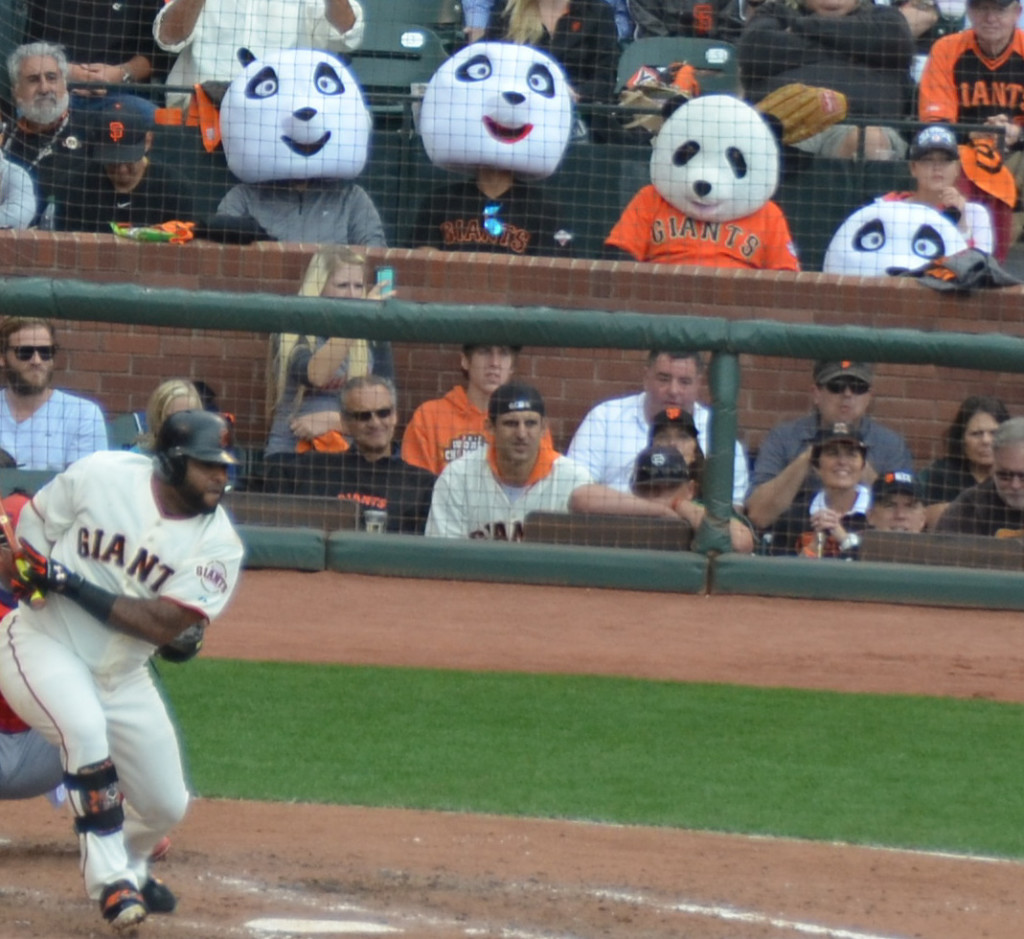 This was from the2014 post-season.
I guess we can't expect them  to be playing like that in April.
That's why they play 162.
UPDATE: Again on Tuesday night, Giants abysmal with runners in scoring position.  Hudson, like Heston on opening day, pitched well enough to keep the game close. If he had any run support, it would have been good enough. But it's  tough when you have three-run pitching and a no-run offense.
Giants score to make it 3-1 in 8th,  as Matt Duffy  gets an RBI on a sacrifice fly to right. It comes  only after a runner moved up on a foul-out.  Sound familiar? That's the Giants post-season offense last year—the productive out strategy. But then Posey's 8th inning blast to center turns into a long non-productive out.  And the inning and the threat ends.
Two runs in the 9th to extend, three to win? It's not October.
UPDATE: Game ends, 4-1, Rockies. The last two out by the two early season heroes. Justin Maxwell strikes out looking. And Aoki strikes out swinging.  Five losses in a row. The champs rely on the Freak to play stopper on Wednesday.
CHECK OUT THE NEW HOME FOR THE AMOK COLUMN: www.aaldef.org/blog
LIKE  and FOLLOW us on Facebook: http://www.facebook.com/emilguillermo.media
And FOLLOW my latest tweets  on  Twitter    http://www.twitter.com/emilamok