SEE UPDATE at end of post:
When Ellen Pao lost her discrimination  case against the venture capital giant Kleiner Perkins, it was pretty predictable. Her case was  all low-tech, "He said, she said."
Analysts said she didn't have a smoking gun.
Or a smoking video.
I thought about that as I watched that video of the South Asian man, an Uber driver, getting a tongue lashing from NYPD's Patrick Cherry.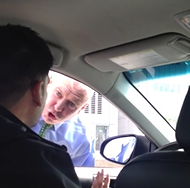 He reminded me of every bad white male boss I ever had.
Come to think of it, throw in all my bad bosses of any color.  Gender even. It happens.
After all, a bully is a bully.
If you haven't seen the video, see my essay and the video in full, here.
UPDATE 4/3/15 12:03 PDT
Cherry has been stripped of his badge and gun and reassigned and has now apologized, according to an exclusive WNBC-TV report.
Not so fast.  Even Jesus took some time to resurrect.
I want to be a good, forgiving Christian…especially on Good Friday.
But this is something worth dwelling on.
If you don't know what hate and racism look like in this "post-racial" era, take a  look at that video again.
That's intolerance, that's hate, and it definitely exists. No doubt about it.
Just ask Cherry. His apology is here.
CHECK OUT THE NEW HOME FOR THE AMOK COLUMN: www.aaldef.org/blog
LIKE  and FOLLOW us on Facebook: http://www.facebook.com/emilguillermo.media
And FOLLOW my latest tweets  on  Twitter    http://www.twitter.com/emilamok