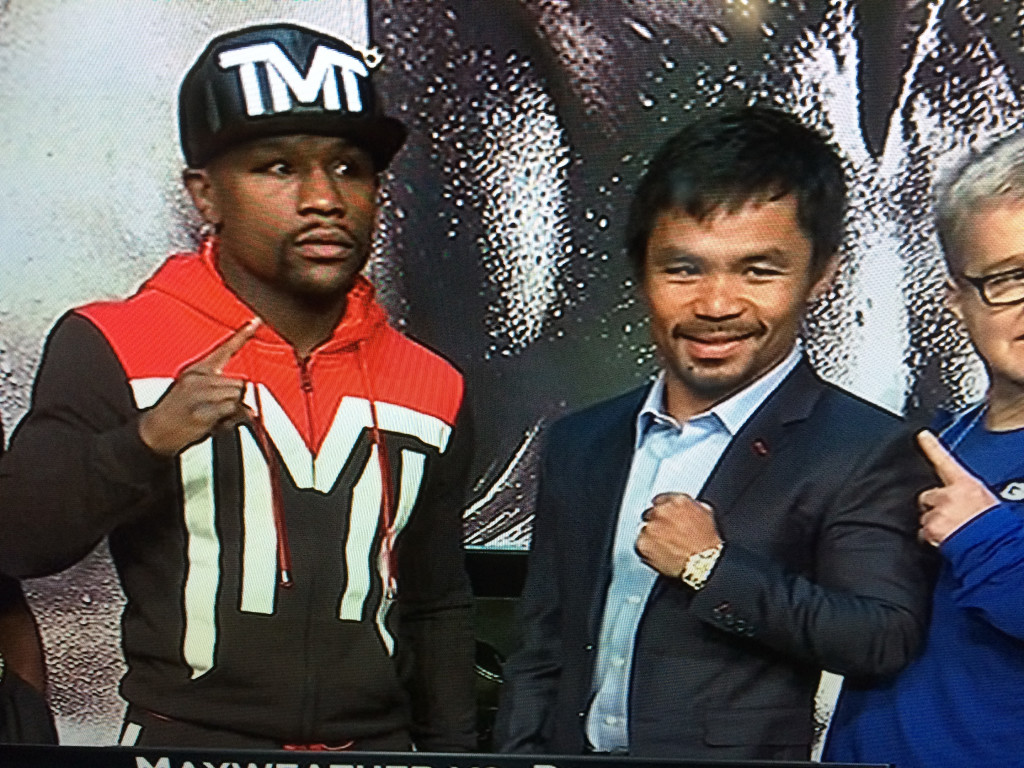 Leave it to Promoter Bob Arum to mention how Pacquiao's letter about Mary Jane Veloso to the Indonesian government had something to do with staying the Filipina's execution the other day.
Did it?
The Philippine Inquirer reported the stay was due to the emergence of the person who recruited Veloso.
But the idea that Manny can save a life at the 11th hour is part of the superhero narrative that is part of his charismatic charm.
It almost doesn't matter if it was Pacquiao's letter that saved Veloso.
When you've lived on the streets and have become a champ, you become a legend.
Pacquiao is the Filipino Paul Bunyan. He lives larger than any Filipino.
As Filipinos everywhere, we see the most prized overseas Filipino and we give in to the narrative.
Manny sure mentions God a lot. That may bother more secular Filipinos (there are a few). They  just believe in Manny.
BY THE NUMBERS
This megafight is producing some meganumbers.
I'll share a few numbers that produce a different kind of " tale of the tape" in this boxing match. These two boxers aren't heavyweights.
But they are when they stand on their piles of money.
Pay-per-view: $300 million (3 million purchases @$100)
Estimated splits and payday for fighters:
Floyd Mayweather: 60 percent.
Manny Pacquiao: 40 percent
Payday for Mayweather: In excess of $180 million
Payday for Pacquaio: In excess of $120 million
Per capita income in the Philippines: $2,765 a year
Number of Filipinos forced to work overseas to make a decent wage: 2.4 million people
Amount in back taxes Philippine government wants from Pacquiao: $75 million
Amount in back taxes IRS wants from Pacquaio's 2006-2010 earning: $18.3 million
Number of convictions for Mayweather on battery and domestic violence since 2001: 5
Jail time served in 2012 in Nevada by Mayweather on a plea deal to avoid felony charges on wife battering: 2 months.
Number of suspensions by Nevada boxing officials to Mayweather: 0
Fight's economic benefit to Las Vegas, according to Las Vegas Convention Bureau:$150-200 million; 300,000 visitors.
That last graph no doubt is the reason boxing, a state regulated sport, did what it did.  Floyd's no saint. He's a money generator.
But  he beats women.
Manny also generates lots of money. He may not be a saint, but if  Arum is to be believed, he may have helped save a woman from her death.
CHECK OUT THE NEW HOME FOR THE AMOK COLUMN: www.aaldef.org/blog
LIKE  and FOLLOW us on Facebook: http://www.facebook.com/emilguillermo.media
And FOLLOW my latest tweets  on  Twitter    http://www.twitter.com/emilamok