Oh, those Warriors. In 1975, I was leaving Cambridge, MA on my way to Houston, TX for my first professional radio gig–$3 bucks/hr., six hours a week. I'd play records, do the newscasts (it was a music station, so it dumped most of their news commitment on the overnight).
Et voila– Emil For Real was born.
But before I left Cambridge, I was enjoying the Warriors demolish the Washington Bullets to win the NBA Championship.
I was so excited. As a small boy, I remember dragging my dad to the old Civic Auditorium (yes, the same place where SF school kids used to graduate) to see the old San Francisco Warriors play. There was Wilt. Then Nate Thurmond.
And Rick Barry, of underhand fame.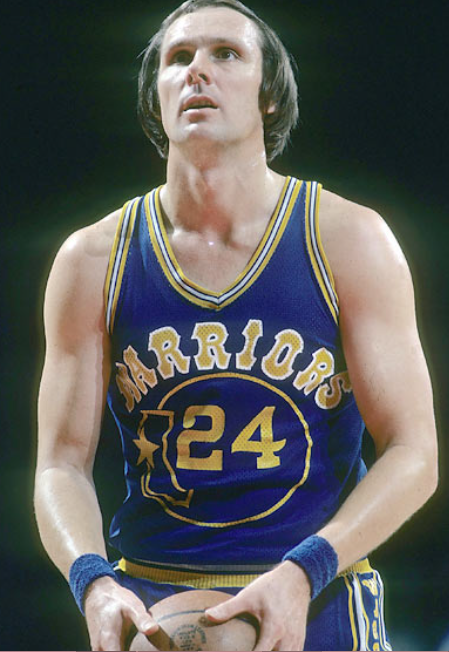 And now here they were in the 70s.
Earlier that year, I met  Barry and Bill King, the Warrior announcer,  in the Boston Garden. And I just couldn't believe they could be good enough until June.
When they were, I did what I almost never do.
I wanted to shout from the rooftops about the Warriors!
So I called a sports talk show in Boston to gleam and gloat about "my" Warriors.
It's been 40 long years since the team has been back in the finals.
And now longsuffering Warrior fans have their shot again.
This is the team to do it.
Same kind of team as the one 40 years ago. One big star. No real big center. Good bench. A real team.
Back then, teams would rotate at best seven core players. Five starters and maybe two off the bench.
At the time, Warrior coach Al Attles was heralded with being the best to get production from the entire team off the bench.
No one ever played that style before.
Now here's Steve Kerr refining the matchup style, where small can be big by playing with speed and a swarming sense of defense. He also has the league MVP, Steph Curry, who has not quite erased the memory of the great Rick Barry from the minds of older Warrior fans (though to younger Warrior fans, Rick is barely a memory, with newer Barry's John and Brent maintaining the brand).
After the Grizz and the Rockets, I think the Warriors are battle-tested and ready to show what champions they truly are.
LeBron James is a great player. But we know how basketball is about team and not individual greatness.
The Warriors as a team will defeat Cleveland in 6 to cap off a brilliant year.