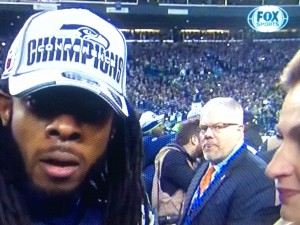 In this case, the "C" stands for Crabtree, as in Michael  the 49er wide receiver Sherman was guarding. And it was less a march than a leap and a tip, but it defined Sunday's San Francisco-Seattle NFC Championship game. It also led to Sherman's now-infamous scorched earth rant, where super classless Dick Sherman is very much less than civil.
The thuggy Stanford grad gives sports a bad name. Football is a game. It's not war. It's an escape from real life. When the game ends, we go back to it–life that is.  But loutish players like Sherman do not for a good time make.  The game lingers and stings. Add to that, the refs' bad calls on unreviewable plays and one comes away from this year's NFC championship with a sense of "jock injustice."  
Sportsmanship makes it all palatable. But when none exists, sports becomes exposed as just another example of corporate showbiz.
Not with my money.
It's all bad for the NFL product, the game, which has become the national game.
Sherman, no doubt is encouraged by the Seattle 12th man concept which sets back sportsmanship and football to Neanderthal times. Promoting loud and unruly behavior that goes beyond cheering to the point of hurting another team's performance can only lead to fan hooliganism (they do serve alcohol at games), and as we see, extreme player taunting.  It's said both teams have to play in the environment created by the 12th man, so things are equal. Right. What would make it even more equal is to play on neutral fields for all championship games. Either that, or bring a little tennis into the NFL. The crowd and the players need a shhhsh-ing.
Sherman's end of game exclamation point simply promotes a side of the NFL that makes it ugly and unwatchable.
Far from sporting. Far from super. 
UPDATE:
Sherman wrote an act of contrition for SI today. But it seems like he sees what he did totally different:
"To those who would call me a thug or worse because I show passion on a football field—don't judge a person's character by what they do between the lines. Judge a man by what he does off the field, what he does for his community, what he does for his family."
"But people find it easy to take shots on Twitter, and to use racial slurs and bullying language far worse than what you'll see from me. It's sad and somewhat unbelievable to me that the world is still this way, but it is. I can handle it."
http://mmqb.si.com/2014/01/20/richard-sherman-interview-michael-crabtree/
Uh, Sherman, it's all the same.  The way you play on the field and the way you deport yourself after the game. You are that character between the lines.
And that post-game interview on FOX was disgusting.
CHECK OUT THE NEW HOME FOR THE AMOK COLUMN: www.aaldef.org/blog
LIKE  and FOLLOW us on Facebook: http://www.facebook.com/emilguillermo.media