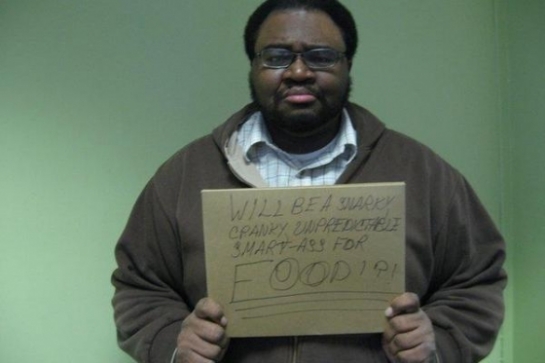 I feel for Craig Lindsey, a laid off critic, who went on-line saying he will be "snarky" for food.
He's also African American.
At least he didn't  have to go on traffic island and get red-light donations.
It was the first news story of 2014 that I saw, reported in Richard Prince's Journa-lisms blog. (See link below).
When I got laid off at NPR, a top network TV exec had lunch with me and offered no job.
Said exec: "Time to be entrepreneurial."
That's what modern corporatists call" do-it-yourself welfare."
That was in 1991, the beginning of the end of the notion of "safety net."
Republicans have perfected the idea since then. More than a million lost their unemployment benefits last week. Another million could lose benefits by February.
Craig's story reminded me how there's some myth that journalists of color are spared from layoffs, as we're somehow part of some "protected" class. You know, how minorities got their jobs to fill some imaginary quota to have diversity in newsrooms.
Never been my experience. There's  still a form of "last hired, first fired" at work out there.
Call it "Reverse Equality."
As I was reading about Craig,  I saw a network report on a morning show by a reporter, who 15 years ago was the hot female anchor on the network. Now she is rarely seen and plays utility reporter, national news quickies from the New York desk.
But she's weathered all economic storms. She's white, female. And protected.
See Richard Prince in "Journal-isms" on Craig Lindsey:
http://mije.org/richardprince/jobless-critic-raises-4g-stave-homelessness
CHECK OUT THE NEW HOME FOR THE AMOK COLUMN: www.aaldef.org/blog
LIKE  and FOLLOW us on Facebook: http://www.facebook.com/emilguillermo.media
And FOLLOW  on  Twitter     http://www.twitter.com/emilamok