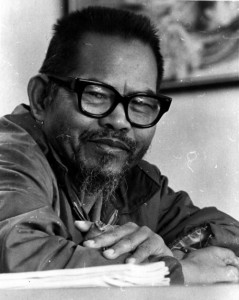 Marissa Aroy's "Delano Manongs" gets a sold-out screening at CAAMFest2014 in San Francsico Sunday night. Just saw a preview of the documentary and it fills in the blanks in the Filipino-less, UFW/Cesar Chavez story.
It clearly shows how the Filipinos and the Mexican workers forged a union to fight for fairness.
Aroy's documentary (which will be making the festival circuit and shown on PBS station KVIE-Sacramento) is  in stark contrast to the new narrative feature film on Cesar Chavez opening up in your nearest 12-plex. But the multi-million dollar feature film very conveniently streamlines the UFW saga to make it seem like Chavez did it all.
Oh, a Filipino actor is seen, but it's almost like an extra.
Accuracy is not a strong point.
In one historical scene, the feature film leaves out Filipino labor leader Larry Itliong entirely.
I asked Arroy if the filmmakers should have made Larry a more prominent part in the new commercial picture opening next week.
"It was a conscious omission," said Arroy in a phone interview just. "And I……(long pause) ….I think it's unfortunate not to have Larry there at the table."
See my post on Itliong:
http://www.aaldef.org/blog/restoring-larry-itliong-to-his-rightful-place-during-filipino-american-history-month.html
CHECK OUT THE NEW HOME FOR THE AMOK COLUMN: www.aaldef.org/blog
LIKE  and FOLLOW us on Facebook: http://www.facebook.com/emilguillermo.media
And FOLLOW  on  Twitter     http://www.twitter.com/emilamok