(SEE UPDATES BELOW)
I am still buzzed about that dramatic home run by Travis Ishikawa. I wrote about it on the AALDEF blog here.
I was in the stadium that night and took this picture as Ishikawa was approaching home.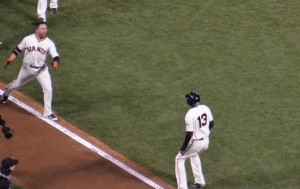 He's slammed down his helmet in exuberance, and is confronted by one of the runners who scored ahead of him, Joaquin Arias.
But notice the player in the left corner.
It's Tim Lincecum, heretofore, the most incredible Asian American native born major league player of part-Filipino heritage ever.
He's never been on the margins in his career. But he is now.
Lincecum hasn't pitched an inning in the post-season. And in those times when his number would be called, it's been someone else. Petit, most notably. But also Strickland. And the specialists like Lopez and Affeldt.  Lincecum can't get in the game. Manager Bruce Bochy has him slotted where he can be trusted. Top of a fresh  inning where any damage due to Lincecum's control issues can be minimal. But the longer Lincecum goes without pitching, you wonder how ready he'll be for any situation. You kind of hope he doesn't get in, because it means the Giants' starter was ineffective, and the team is losing. Meanwhile between injured Cain's $20 million a year, and ineffective Lincecum's $17 million, that's nearly $40 million on the Giants' bench.
And the team's still winning.
From having talked to Lincecum in the past, I know his attitude is, "I'll pitch whenever they tell me." He's always positive; always a team guy. He's never had his status fall like this. But I think, he'll use this to come back stronger than ever.
I've always said he had an Eckersly like career arc forming. If he uses this period to get his mechanical issues straightened out, the man who never ices his arm, could find there's a formidable second act in his future.
Just an odd thing to catch him on the edge of the frame, watching Ishikawa–who has never been  a star, always a marginal guy. But in Game 5, he was the man of the hour. And for more than just baseball reasons. See the AALDEF blog for that story.
………………………………………………….
UPDATE GAME 3, 10/24/ 14  9PM   ROYALS PLAY GIANT BASEBALL BETTER THAN GIANTS
The Royals play the game the Giants would like to play. Get your lead off runner on, move him along. Knock him in with a hit or productive out.
When Alcides Escobar led off the first with a double off Hudson, it set the tone.  When the Royals scored the first run, it followed the blue print.
In the 6th, the pivotal inning in a bullpen series, the Royals did it again. After the pitcher Jeremy Guthrie ground out,  Escobar took over with a single. He scored on a Gordon double, and Gordon scored on a Hosmer single (on a huge 11 pitch at-bat).
Those were the three runs, manufactured to plan. And the Giants couldn't match it.
They tried in their half of the 6th on a pinch-hit double from Michael Morse that scored Brandon Crawford. But the Giants got little from the 3-4 batters tonight. Posey,who has yet to get an extra base hit in the series, had a groundout RBI. And then with Blanco on third, Pablo hit a grounder to first to end the threat.
That was it.  The Giant's defense kept them in the game. (Of note:  Sandoval's barehanded grab of a Hosmer infield bloop with a subsequent throw to first, worthy of being called a web gem, but he didn't use a  glove). And Hudson, pitching in his first World Series, performed well, at one time point retiring 12 in a row. But then came that 6th inning. And the Giants offense wasn't able to deal with the Royals pen.
There's talk of Madbum on short rest for Saturday. But why? Let Vogey and Petit get it done Saturday. Save Madbum for Sunday to go up 3-2. Then split in KC to win it all. That's not the best plan,but it is a plan.
But things for the Giants in this series haven't always gone to plan.
It's a simple one. The pitching is good enough. So is the D. The O is a zero.
Get the  lead off man on,  move him along.  It's been easier for the Royals so far. And that's why they lead the series, 2-1.
UPDATE/ Pre-game buzz GAME 3  10/23/ 9pm PDT  More Lincecum; Guthrie and Ish
Giants Manager Bruce Bochy said Tim Lincecum was getting an MRI this afternoon, but added that the pitcher indicated he felt fine. Lincecum, the guy who doesn't ice is arm, should be ready to be a bullpen weapon on Friday. Bochy said Lincecum has to feel confident about pitching, after his first appearance in 23 days on Wednesday.  "I know we do," added Bochy. "He could play a bigger role now, if he's healthy."
When I saw KC starter Jeremy Guthrie, I just knew the guy was at least half-Asian. Sure enough, his mother is Japanese American, born in Hawaii. Guthrie was born in Oregon, and went to BYU and Stanford. He is a fourth generation Japanese American.
He told the Japanese ball players blog that he speaks no Japanese, and has never visited Japan. But his  favorite food is Shrimp Tempura. "I feel a strong tie with Japanese culture, but I don't know why. I feel close to Japanese players," he said. The blog added that  Guthrie "feels there is a sense of "Japaneseness" in him that is different from most Americans."
The Giants game 5 NLCS hero, Travis Ishikawa, is also a fourth-generation Japanese American.
…………………………
UPDATE GAME 2  10/22/ 8:45 PM PDT
What a difference a Madbum makes
Without the 25-year old ace, the Giants looked like the Royals did on Tuesday.  Ordinary.
They sent out Jake Peavy for Game 2, and Peavy has a thing about the 6th inning in post-season.
He doesn't get out of it. True to form, he didn't.
The game seemed to start off like Game 1, with the Giants pouncing. Facing 99 mph fastballs from KC's Yordano Ventura, the Giants didn't buckle. Leadoff man Gregor Blanco hit a line drive homer to right for a 1-0 lead.
When the Giants score first this post-season, they're 5-0.
But Peavy was rocky in the first, as the Royals tied it when Billy Butler singled in Lorenzo Cain.
They went ahead in the 2nd on doubles by Infante and Escobar.
But the Giants came back in the 4th when Brandon Belt doubled in Sandoval.
It was all tied at 2, and then came that 6th inning.
Peavy had retired 10 in a row and looked to have settled in. But after a single to Cain and a walk to Hosmer, Peavy was gone.
Jean Machi came in relief. And true to his poor form of late, Machi gave up a single to Butler, who again delivered an RBI single to put KC ahead 3-2.
Machi left to be replaced by the home-run inducing Hunter Strickland. He began with a double to Salvador Perez, which made the KC lead 5-2.
And then Strickland did what Strickland does. A home run ball to Omar Infante to left, put KC ahead 7-2.
The Giants' bats were stymied by the KC bullpen.They hit the ball hard, but struck out 6 times and never could mount a rally.
One good news/bad news situation was the appearance in relief of Tim Lincecum, the first time in 23 days he's seen action. Lincecum came on in the 7th, pitched 1.2 innings and struck out two batters. But he hurt something in his lower body as he delivered a pitch and was forced to leave the game. Still uncertain how serious the injury is and if it will prevent him from future action.
The series now goes back for three games in San Francisco, and if the Giants win Games 3 and 4, they could conceivably close it out in 5 with another start from their ace Bumgarner.
But the Royals showed what they had in Game 2. And they showed how the series can easily come back to Kansas City.
……………………………………………
UPDATE on GAME 1        10/21/14 9:45pm pdt
You can't underestimate the value of game one of the World Series.
The winner of the first game has won 69 of 109 series, including 15 of the last 17.
So the Giants winning 7-1 on Tuesday night gives them a real edge.
This game was over early as the Giants shut up the crowd scoring 3-runs in the first, including a two-run shot by Hunter Pence into the right-centerfield seats.
The Giants bats were alive all night with 10 hits. Pablo Sandoval extended his post-season on-base streak to 24 games, and went ahead of Lou Gehrig into 5th longest of all time.
Lou Gehrig. That's enough to make you forgive Panda's physique issues.
But the streak of Bumgarner's was more impressive. He entered with a record for road shutout innings pitched in the post season, 26.2 innings. He went 6 and 2/3rds more before giving up a home run to Royals catcher Salvador Perez in the 7th.
That's 33 and 1/3 innings of shutout innings pitched on the road in the post-season.
And MadBum is just 25-years-old.
The only threat from the Royals came in the 3rd when Brandon Crawford's error, followed by a Moustakas double, and a walk to Cain (in a contentious at bat) loaded the bases. But Madbum struck out two and got the Royal's slugger Eric Hosmer  on  a grounder t0 second base.  That was it for the Royals.
Game Two on Wednesday puts more pressure on the Royals. They don't want to go into San Francisco down 2-0.
But the Giants have the momentum now. And Jake Peavy on the hill.
The Royals may have better luck against the Game 3 pitcher, Tim Hudson, whom they beat last August.
If the Giants win Game 4, that sets up a repeat of Game 1—Bumgarner against the world for the series in Game 5.
Tuesday was more than a peek into the future.
…………………………………………….
UPDATE  10/21/14  1:00 pm pdt
Game one about to start and I'm noticing how the Nation seems to be turning Royal Blue, backing the Cinderella team from Kansas City. Why? They haven't been there in nearly 30 years and there's a real sense of underdog entitlement. Like that makes sense in sports? People are all meritocratic and hard ass in sports and then get soft because the team in blue hasn't been good enough in three decades, let them have a chance?
That's not how sports is played. Rec league soccer for kids maybe, but this is hardball.
The Giants aren't really all that great. They are good enough to be great when they have to. That's the 2014 team. I watched them all year, suffered through June. Got really disgusted with their play late July and early August. But what do you know. They hung in there. Didn't beat the Dodgers, but made it to be the worst qualified team in the NL.
The Royals were the least qualified on the AL side, and have come on strong in the post-season, but I think the fairy dust runs out in this Wild Series.
If you're going to go with underdogs, the Giants are the more deserving among dogs. The Royals have a nice team, but I saw them play  Oakland in the summer. If the Giants starting pitching is sharp, and the Giants big bats wake up, then this is over in 5.
What people seem to respond to in the Royals is sympathy and nostalgia. The Giants had that a bit in 2010 too. But they were better than the Texas Rangers.
The sympathy vote for the Royals makes them slightly more lovable to some. And that's the problem the Giants have. They are not villainous by any means. But their lovability factor for some reason seems low.
Doesn't anyone out there notice those darn Panda hats?
I think the hats and the Panda himself are the key to this series. Pablo Sandoval had that huge 3-home run game in 2012. I was there. I still don't believe it. But he has it in him. And he's been fairly quiet with the bat. High average but no pop. I think he'll be ready to pop this week. It's his contract year, and he's motivated. I'm looking for him, Posey, and Pence to make the difference. I won't say sweep, but it would be nice to get in the full three game set in SF and win it all at AT&T on Sunday the 26th.
CHECK OUT THE NEW HOME FOR THE AMOK COLUMN: www.aaldef.org/blog
LIKE  and FOLLOW us on Facebook: http://www.facebook.com/emilguillermo.media
And FOLLOW  on  Twitter    http://www.twitter.com/emilamok